Adi Tantimedh writes for Bleeding Cool;
I hardly watch US network crime shows anymore because I find most of them to be generic shit (This is different from cable shows that don't need to follow old formulae and can push the envelope more). They generally need to be in order to satisfy conservative viewers and advertisers. I can't say I've bothered with any new hour-long network show for a few years now, though I have to look at pilots of new shows for work.
PERSON OF INTEREST is the most interesting new US network crime show for the last few years. It stars THE PASSION OF THE CHRIST's Jim Caviezel as a mysterious former black ops man hired by an equally mysterious rich man, played by LOST's Michael Emerson, to save prospective victims of crime before they happen.
The show's network, CBS, is the highest-rated in the US, with the top two sitcoms and the biggest number of crime shows than any other network. On CBS, THE MENTALIST, the CSI series, NCIS, CRIMINAL MINDS, TRUE BLUE, HAWAII FIVE-O, are all cop shows that tend to foster the (older, as I'm frequently told) audience's desire for reassuring fantasies of law and order and good cops that still get the bad guys.
What sets PERSON OF INTEREST apart is that the main characters are vigilantes who operate completely outside the law. They know what they do is utterly illegal and they get on with it anyway. There's a satisfying ruthlessness with which Caviezel goes about his business of meting out violent retribution when called upon, and a lack of sentimentality with which the first episode goes about its amoral business.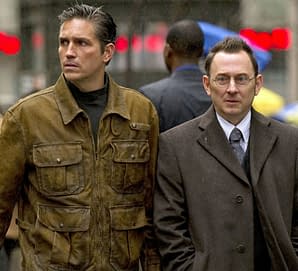 Created by Jonathan Nolan, who co-wrote THE DARK KNIGHT with his brother, director Christopher Nolan, the show touches on a lot of themes and ideas last seen in THE DARK KNIGHT, only here done without capes or costumes. The notion of righteous vigilantes who use invasive surveillance for the greater good is a politically dubious idea, but then pulp fiction is nothing without the fantasy of transgression to give it a charge.
There are precedents in pulp and crime fiction that go all the way back to the 1930s and 40s here. There's the opening scene of THE SHADOW pulp stories where a man is plucked from a suicide attempt to become an undercover operative for the title character. There are echoes of the original 70s paranoid surveillance thriller THE CONVERSATION. There's Andrew Vacchs' Burke, the career criminal and avenger-vigilante who in over a dozen novels went to great pains to keep himself and his network of friends and allies off the grid. There's always Batman, of course. Nolan and his brother's recent Batman movies were the first ones to emphasise that Batman needed to gather intelligence before he knew who to beat up, and this show continues that idea for a weekly format. It's also one of those thriller series on TV to have its heroes directly created and motivated by 9/11 in a bid to put it firmly in the zeitgeist, not to mention its deliberate use of the motif of ubiquitous surveillance cameras to create a general air of disquiet and paranoia, which is more than can be said for the generally retro, cozy feel of CBS' cop shows.
Of course, being a TV show, it's not perfect. It still has the bad guys being stupid enough to meet in a dark alley at night where they can be conveniently watched and recorded. The McGuffin computer that picks out the people who are going to become victims in violent crime is basically bollocks, but hey, this is fantasy after all. And while the pilot is strong, it wouldn't surprise me if the show gradually became more soft and sentimental as it went along because of the networks' need to make them more cozy in the belief that audiences will want their comfort food rather than their dark moodiness. It's happened with BURN NOTICE, which might be one of the inspirations for PERSON OF INTEREST with its portrayal of a quasi-outlaw hero who can improvise his way out of any mess. BURN NOTICE was a steady hit for USA Network but has gotten to the point where it's been considerably softened, the writing more and more sentimental, lazy and filled with plotholes as it approaches the end of its life-cycle. That seems to be the general evolution of most TV shows.
Personally, I like to imagine the pilot of PERSON OF INTEREST as a sequel to Mel Gibson's THE PASSION OF THE CHRIST, where Jesus wakes up to an afterlife in the New York subway where he's basically Hobo Batman.
Who wouldn't want to watch a show about BATJESUS?
Watching and being watched at lookitmoves@gmail.com
Follow the official LOOK! IT MOVES! twitter feed at http://twitter.com/lookitmoves for thoughts and snark on media and pop culture,
stuff for future columns and stuff I may never spend a whole column writing about.
Look! It Moves! © Adisakdi Tantimedh
Enjoyed this article? Share it!