Lord of the Rings Cast Return to the Fellowship on Reunited Apart
Actor Josh Gad is living a fanboy's dream for his talk web series Reunited Apart. With Hollywood still under quarantine, Gad has been able to establish cast reunions through Zoom video conferencing. Among the franchises covered include The Goonies, Splash, and Back to the Future. Over the past weekend, the cast and crew of The Lord of the Rings appeared for one reunion to rule them all. Gad conceived the series to promote various charities. The Lord of the Rings episode raised funds for No Kid Hungry. Among those who appeared included the entire Shire in Elijah Wood, Sean Astin (who previously participated in The Goonies episode), Dominic Monaghan, and Billy Boyd, who played Frodo, Sam, Merry, and Pippin, respectively.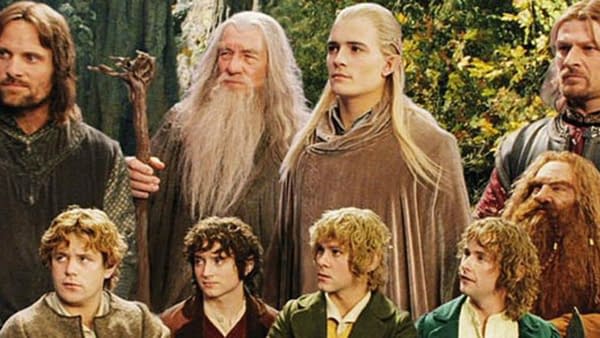 Lord of the Rings Reunion: Humans, Dwarves, Hobbits, and Elves, Oh, My!
The reunion certainly doesn't stop with the hobbits. The remainder of the fellowship in Ian McKellan (Gandalf), Viggo Mortensen (Aragorn), Orlando Bloom (Legolas), John Rhys-Davies (Gimli), and Sean Bean (Boromir) also stopped by. Other cast members Andy Serkis (Gollum), Miranda Otto (Eowyn), Karl Urban (Eomer), Liv Tyler (Arwen), screenwriter Philippa Boyens, and director Peter Jackson came as special surprise guests. The cast answered trivia questions, recreated scenes, and shared stories from the set. One of the scenes, Jackson recalled hastily giving Bean his lines before Boromir was to give his speech at the council of Elrond, which also gave birth to the meme, "One does not simply walk into Mordor." "That entire speech that Sean had to deliver at the council of Elrond," Jackson said, "[It] was written the night before…we gave it to Sean the morning he arrived. What Sean did, which I thought was very clever, is he got a printout of the speech taped to his knee. When he did that scene, you'll see…" Jackson recreated the pose Bean made, which ended up the meme. Reunited Apart airs Sundays on YouTube. You can watch the episode below.