Lovecraft Trilogy of Films Coming From SpectreVision, Hopefully
Lovecraft fans have a lot to smile about always, and now it looks like they will have even more. Coming Soon is reporting that there is a Lovecraft Trilogy of films being worked on by SpectreVision, the production house overseen by Elijah Wood, Daniel Noah, and Josh C. Waller. The first will be out in January, Color Out of Space, directed by Richard Stanley. The team is hoping to move forward with more Lovecraft stories after that, with The Dunwich Horror up next. Check out the trailer for Color Out of Space below:
"Lovecraft is possibly the most adapted horror author ever," Noah continued. "But there's really never been a totally faithful adaptation of any of his works. I think there are a few that are sort of close. One of them is the German version of Color Out of Space that came out a few years ago. Stuart Gordon's films are wonderful, but they are more Stuart Gordon than they are Lovecraft. We had been hellbent on finding the Lovecraft adaptation that truly captured cosmic dread without the camp. When we encountered Richard Stanley's script, I remember texting Elijah after I read the first page and said, 'This is it. We found it.' When you see this film, you'll see that there are all kinds of little references that are allusions to other Lovecraft stories." – Daniel Noah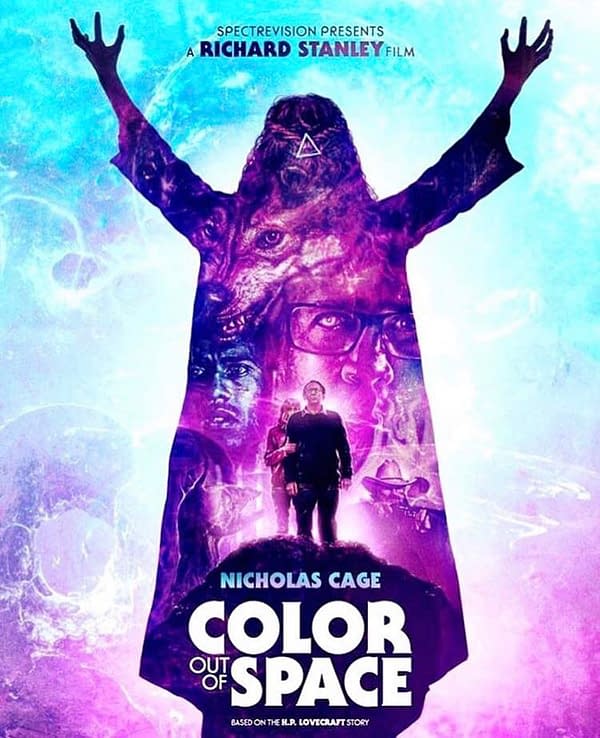 I have to say, I am quite excited for these. Especially Dunwich Horror. The Whateley's are some of my favorite Lovecraft characters, and its importance to the overall Cthulhu mythos cannot be overstated. There was a version released in 1970 featuring Ed Begley, and another in 2009 starring Jeffery Combs, along with numerous radio dramas and stage plays.
Color Out of Space Nicholas Cage, Joely Richardson, Brendan Meyer, Q'orianka Kilcher, and Tommy Chong opens on January 24.