If you were watching any of the live coverage of the 2018 Met Gala red carpet arrivals yesterday, then you know the hot talk was about the possibility of Madonna being the big secret performer of the night. This made perfect sense, really — with the "Heavenly Bodies: Fashion and the Catholic Imagination" theme, who else embodied the mixture of Catholicism imagery and raw power throughout her career?
Under The Veil……………👑 #catholicimagination 🙏🏼😇 #metgala #drama #heavenly #magic #live ♥️ pic.twitter.com/f2RKS9Qpoy

— Madonna (@Madonna) May 8, 2018
Her red carpet look was created by long-time friend Jean Paul Gaultier. "My dress is basically a cross," Madonna told Entertainment Tonight during the event. "We're both Catholic and we have very, very active imaginations."
"Yeah, this is my year," she added. "I think they waited too long [to do this theme]. It's about time."
She also brought the house down with a performance of 'Like A Prayer' complete with chanting monks.
Madonna continues to be a fashion and performance icon. I mean, just look at her posing on the steps after her performance!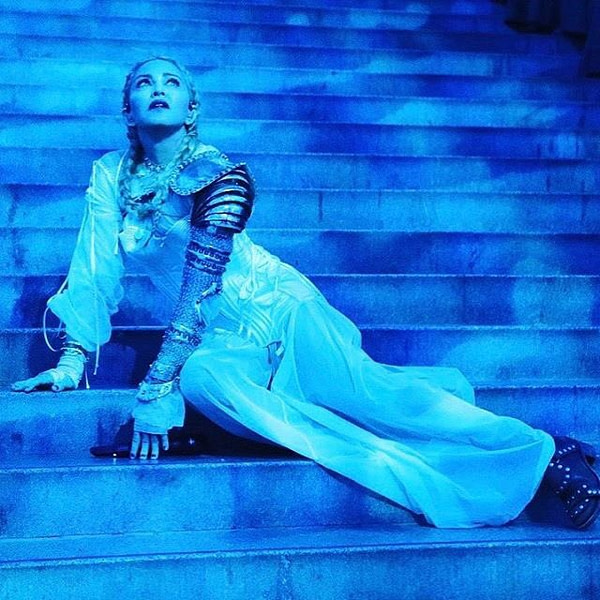 The Met Gala is the annual fundraising event for the benefit of the Metropolitan Museum of Art's Costume Institute in New York City, which usually marks the grand opening of the Costume Institute's annual fashion exhibit.
Usually the highlight of red carpet fashion for the year, 2018's parade of couture was no slouch. So many takes on the theme, and the male guests totally stepped up their outfit games. I mean obviously, just lookit Chadwick Boseman!
From #Wakanda to the #MetGala: @chadwickboseman looks regal at the annual ball https://t.co/KGbqRCPSCt pic.twitter.com/rLnQGEDPtT

— Variety (@Variety) May 8, 2018
But my personal favorite look was Lena Waithe's incredible Cape of Pride (+3 against Sixors).
Heard y'all were looking for me? pic.twitter.com/1o49tCltGg

— Lena Waithe (@LenaWaithe) May 8, 2018
The exhibit opens to the public on May 10th and will run until October 8th.