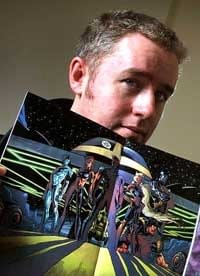 Mark Millar tells The Scottish Sun newspaper that he wrote what became the Avengers movie.
"Marvel told me years back this is one movie they didn't think they could do.

"They were worried it would be a sensory overload having six, seven or eight different, very distinct, characters with their own unique back-story all coming together.

"The fear was that would be too complicated.

"But Marvel Studios boss Kevin Fiege was a big fan of my Avengers books and told me it made him realise an Avengers movie could actually be a lot simpler than he'd thought.

"So they used book one and the ending to book two as the template for the movie, which is enormously flattering."
Naturally he takes the opportunity to talk about stopping writing Marvel character books in favour of his own, and the movies that have spun out of them. And his upcoming moving picture plans;
He plans to churn out a major film every year, with Scotland starring as the main attraction. He'll also break onto our TV screens for the first time later this year with the first of his documentaries.
Enjoyed this article? Share it!