Matrix 4: Joe Pantoliano Pitches Cypher's Return to Lana Wachowski
Actor Joe Pantoliano played a significant part in helping Lana and Lily Wachowski early in their careers. Pantoliano starred in their 1996 LGBT crime thriller Bound as primary antagonist and mobster Ceasar. The Wachowski's follow up their hit with The Matrix (1999) immortalized the duo into cinema history. Pantoliano played Cypher, a member of the human resistance ship the Nebuchadnezzar, who betrayed his crewmates. Though his character died in the film, he appeared Cinema Blend's Reelblend podcast about petitioning Lana for a role in the fourth Matrix film.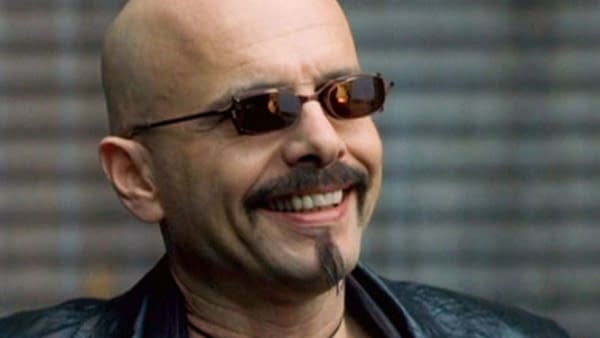 Who is Returning for The Matrix 4
Despite meeting similar fates in The Matrix trilogy, stars Keanu Reeves and Carrie-Anne Moss return to the franchise along with Jada Pinkett-Smith. Her character Niobe made her debut in the sequel The Matrix Reloaded (2003). While assassinating the crew in the 1999 film, Cypher met his fate at the end of a laser blast. Failing to kill his first target, Tank (Marcus Chong), he turned the weapon Cypher used on him with a more accurate fatal shot. With Hugo Weaving turning down the role to reprise Agent Smith, bringing back Cypher makes sense in the very least to shed more light on what led to his betrayal if Wachowski feels like revisiting.
Do We Dare Dream?
Pantoliano's eager to return, but it may be more wishful thinking on his part. "Yeah, I'd be interested," he said. "I doubt they're going to be bringing me back. I've lobbied for it, believe me. I've sent little notes to Lana and asked her, to no response." Production began well before his podcast appearance and currently suspended due to the COVID-19 pandemic. Short of a rewrite or last-minute Easter Egg, we probably won't see Cypher again. With Lily out of the picture, Lana co-wrote the screenplay with Aleksandar Hemon and David Mitchell for Warner Bros. Joining cast members Reeves, Moss, and Smith are Jessica Henwick, Jonathan Groff, Priyanka Chopra, Neil Patrick Harris, Brian J. Smith, and Yahya Abdul-Mateen II. Pantoliano is in Bad Boys for Life now available on digital. The fourth Matrix film's tentatively scheduled for release on May 21, 2021.