McDonald's Breaks Gender Barrier With Amazing Spider-Man 2 Girls' Toys
By Julz Hendricks
The happy meal toy world has been dominated by movie tie ins for years. Recently McDonald's announced that they will not only be offering the boys superhero toys but will also be offering a girls' version of The Amazing Spider-Man 2 toys. This is huge for little girl superhero fans everywhere!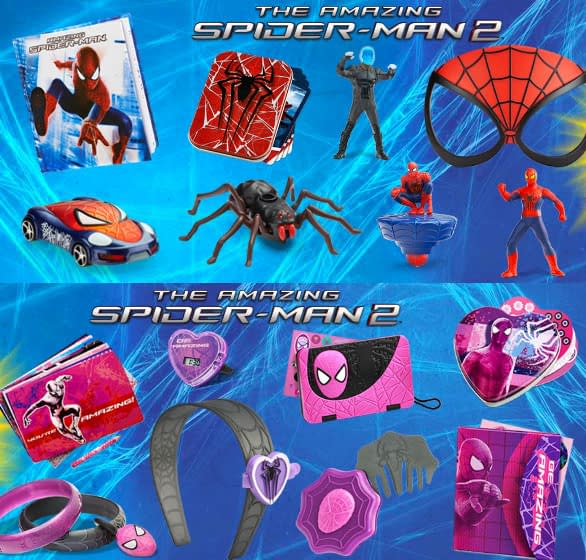 Back in the day, and even up until recently, if you wanted the superhero toy in a McDonald's Happy Meal, you had to ask for the "boy toy". This trend is not only among Happy Meal toys, but the gender toy stereotype has been around for as long as I can remember. Most toy stores are separated into a girls' section and a boys' section, so the cool superhero and Star Wars toys will never be mixed in with the dolls and Barbies. This creates a barrier suggesting that girls should like only these certain toys specified for them.
I am happy that McDonald's is offering this, and my only wish is that they would have had a girl Spider-Man mask as well, so little girls could be Spider-Man too! That was quite a missed opportunity considering the movie is going to be enormous, and little girls could have represented in the theaters! Also word of mouth, and social media could potentially create more fans seeking out these awesome toys.
McDonald's we are loving it!
Julz Hendricks is a co-host of podcasts Panel 2 Panel, now featured on Bleeding Cool, and Chickcast. She is a huge advocate of kids' comics but is also the first in line for comics like Saga and Hawkeye. You can find her on Twitter as @JulzHendricks.