Mondo Music Release of the Week: Deadpool 2 Soundtrack!
Mondo releases new vinyl special editions every single Wednesday. They are they ultimate edition of whatever they put out, featuring extensive liner notes, brand-new commissioned artwork, and always have a limited-edition size. The vinyl itself is usually colored or a photo disc, as well. Basically, it's like the Criterion Collection of movie and gaming soundtracks. This week sees the release of the soundtrack to Deadpool 2 by Tyler Bates, along with new enamel pins by artist Matt Taylor.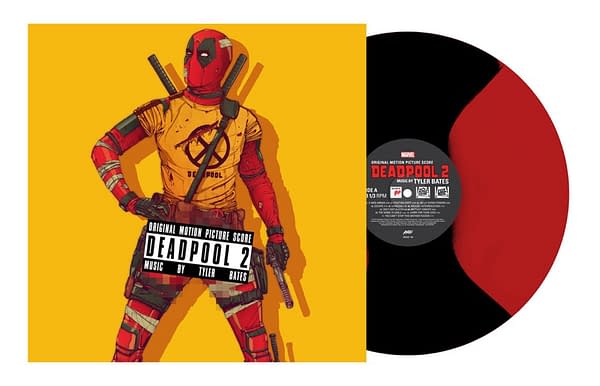 This week, in celebration of DEADPOOL 2 out on home video, we're proud to present Tyler Bates' awesome score on vinyl, plus Deadpool, Cable, and Domino enamel pins designed by Matt Taylor.

The record will be available starting this Wednesday at NOON (CT) via mondotees.com. And you can pick up the pins right here, right now!

Mondo is proud to present Tyler Bates' bombastic score to this summer's equally bombastic and hilarious film DEADPOOL 2.

Coming off hot from his previous collaborations with director David Leitch, composer Tyler Bates (ATOMIC BLONDE, JOHN WICK) has joined forces with Leitch once more bring his impeccable skills to the enormous and meta world of the merc with a mouth.

Epic in scope, but willing to be in on the joke, Bates' score practically interacts with the plot of the film – bouncing from fast paced action set pieces, choruses proclaiming "Holy Shit Balls," to tender, and sincere moments of clarity. Much like the filmmaking on display, it is harder than it sounds to perfect this balance of tone.

Featuring incredible artwork by Boneface, and pressed on 180 Gram Red with Black Stripe vinyl.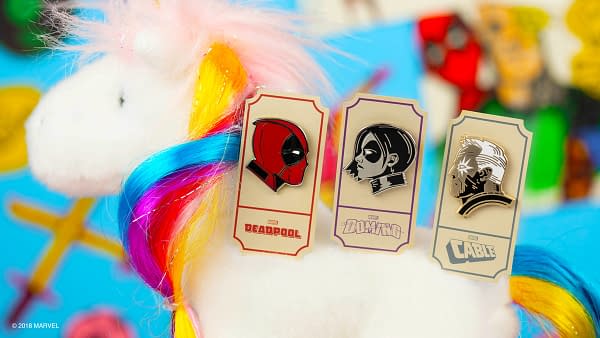 As with all Mondo releases, this will go up for sale on Wednesday at Noon central time. It ships in November. Also available right now are three new Mondo enamel pins featuring Deadpool, Cable, and Domino for $10 each.