Moonfall Trailer Promises Destruction On February 4th
Moonfall is coming in February, and a full trailer for the film was released today. It turns out; this is not a film just about the moon crashing into Earth. No, there is something much more sinister going on, because of course, there is. It turns out; something has been hiding on the moon for 50 years. Starring Halle Berry, Patrick Wilson, John Bradley, Michael Peña, Charlie Plummer, Kelly Yu, Eme Ikwuakor, Carolina Bartczak, and Donald Sutherland, the new Roland Emmerich, Moonfall has all the hallmarks of his earlier work: conspiracy theories, one-liners, and of course, mass destruction of the planet. Check out the trailer below.
Moonfall Synopsis
"In Moonfall, a mysterious force knocks the Moon from its orbit around Earth and sends it hurtling on a collision course with life as we know it. With mere weeks before impact and the world on the brink of annihilation, NASA executive and former astronaut Jo Fowler (Academy Award® winner Halle Berry) is convinced she has the key to saving us all – but only one astronaut from her past, Brian Harper (Patrick Wilson, "Midway") and a conspiracy theorist K.C. Houseman (John Bradley, "Game of Thrones") believes her. These unlikely heroes will mount an impossible last-ditch mission into space, leaving behind everyone they love, only to find out that our Moon is not what we think it is."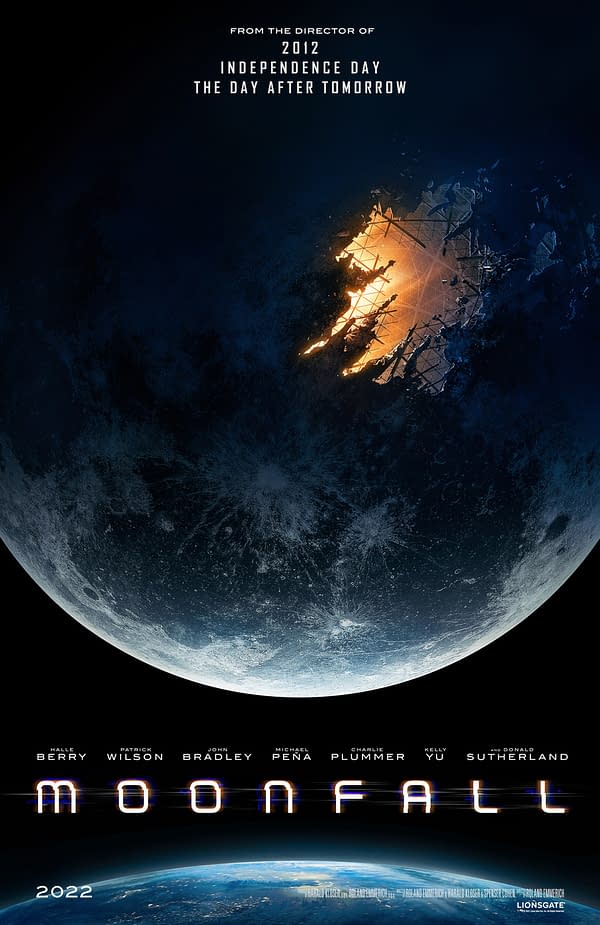 Here is what our own Kaitlyn Booth had to say about the footage she saw from Moonfall at CinemaCon this year: "This is the new movie from Roland Emmerich, and no one does disaster movies better than him. We got to see the movie's opening scene when a group of astronauts is attacked by some sort of goo that looks like Venom. They turn and see a giant tornado on the surface of the moon. The teaser trailer features a shot of the moon crashing into Earth in reverse slow motion. During the final sizzle reel, Halle Berry says the line "the moon is the biggest coverup of humankind," which is just a hell of a line. It'll be out on February 4th."
Indeed it will. While I agree 100% that nobody does disaster movies better, that does not make them any less stupid. The moon being a coverup for some giant conspiracy sounds pretty dumb, but I am also sure the scale of devastation will be a wonder to gaze upon onscreen when Moonfall debuts in 2022.