'My Spy': Dave Bautista Shifts Release Date Back a Month to April 17th
My Spy, the upcoming comedy film starring Dave Bautista, has shifted release dates yet again. The film was originally supposed to release in August of lats year, then again from this past January to March 13th, and now it will be delayed again to April 17th. That means it takes the date Trolls World Tour abandoned to replace the latest Bond film No Time to Die, which itself was delayed until November this week over Coronavirus concerns. Apparently the film is doing well in its openings in Australia and New Zealand, and the studio wants to take advantage of the less crowded weekend in April now that the pieces are done shifting on the board. Next weekend would have seen the film open against Bloodshot and The Hunt, along with Disney/Pixar's Onward and its second weekend.
MY SPY follows JJ a hardened CIA operative (Dave Bautista) who has been demoted and finds himself at the mercy of a precocious 9-year-old girl, named Sophie (Chloe Coleman) where he has been sent undercover begrudgingly to surveil her family. When Sophie discovers hidden cameras in her apartment she uses her tech savviness to locate where the surveillance operation is set. In exchange for not blowing JJ's cover Sophie convinces him to spend time with her and teach her to be a spy. Despite his reluctance JJ finds he is no match for Sophie's disarming charm and wit.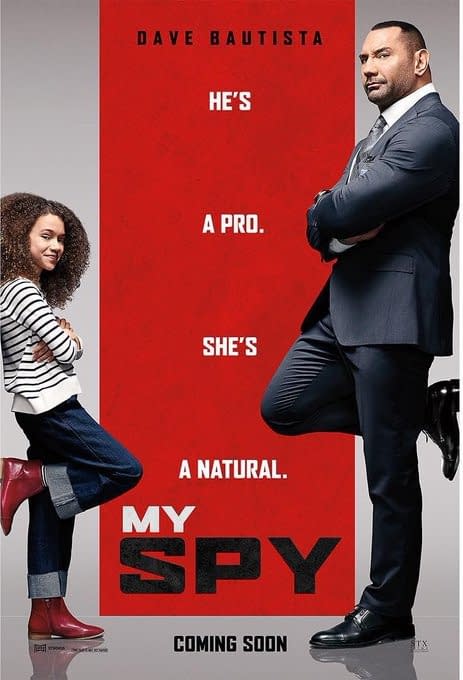 My Spy, directed by Peter Segal and starring Dave Bautista and Chole Coleman, now opens on April 17th.
News first reported by Variety