When word got out that 20th Century Fox would be releasing a PG-13 cut of Deadpool 2 for the holiday season, people weren't sure what to make of that. Then the story got even stranger with the reveal that new scenes were shot, and it looked like the movie was going to be a parody of The Princess Bride at least when it came to framing devices.
Deadline has some new information about Once Upon a Deadpool, which is set for a limited theatrical run of December 12th-24th:
"Fox has been asking for a PG-13 basically since the start in 2006," Reynolds told Deadline on Monday. "I've said no since 2006. Now, this one time, I said 'Yes' on two conditions. First, a portion of the proceeds had to go to charity. Second, I wanted to kidnap Fred Savage. The second condition took some explaining…"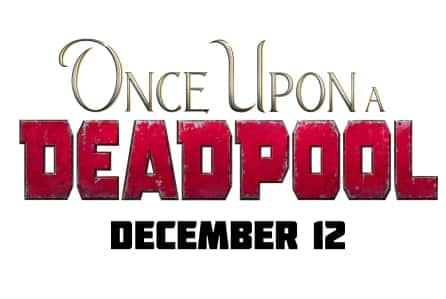 The charity in question is "Fuck Cancer", or as it is being called for this tie in "Fudge Cancer", and $1 from every ticket sale is going to the foundation. The other part concerns Fred Savage, who played along with the kidnapping part of all this when asked for a comment.
"While my participation in this film was anything but voluntary. I am happy to learn that Fudge Cancer will be the beneficiary of this shameless cash grab."
A shameless cash grab this might be but this isn't just a cut down version of the original movie. The movie will allegedly run three minutes shorter than the theatrical cut but they did shoot new scenes in what is being called a "single hectic day of guerrilla-style filmmaking". Deadpool, despite being about a R-rated as you can get, does have great appeal to children and writers Rhett Reese and Paul Wernick are well aware of that.
"We've driven a wedge between parents and their tweens and we hear about it all the time," Reese said. "This [PG-13 revamp] is a way to try to appease those parents. … Deadpool has been a unique property and, by definition, what's in a Deadpool movie is all the stuff that can't be in any other superhero movie."
Whether or not this type edit works is going to be a game changer in a couple of different ways. It could encourage studios to do multiple theatrical engagements of their movies at different ratings. If Once Upon a Deadpool still feels like a Deadpool movie despite the lack of R-rating that could mean Wade Wilson is on his way to join the Avengers in some capacity.
However this turns out at least a charity is getting some money out of it because, seriously, fuck cancer.
Enjoyed this article? Share it!