[Olympics] Here's When to Catch the NBC Events Starting Tonight
We are SO READY for the Olympics opening ceremonies tonight! We've been talking a lot about the PyeongChang Winter Games over the past week, and it's only gonna get more frequent starting this weekend.
Tonight, the cauldron lighting and Opening Ceremonies air on NBC (they keep saying LIVE, but seeing as how it ALREADY HAPPENED, that's not entirely true, and so we won't say live) around 5 p.m. PST, with an encore starting at 11 p.m. PST.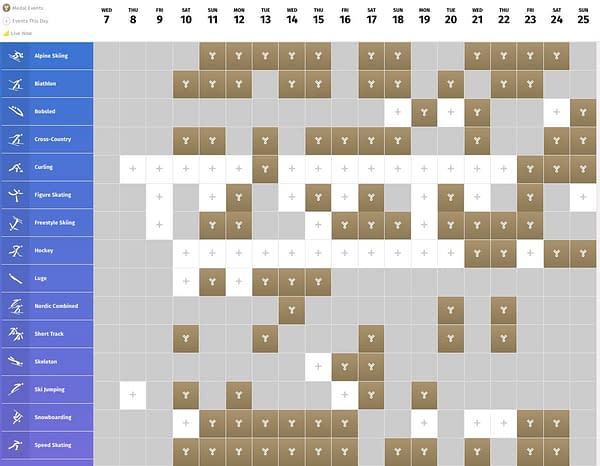 We thought maybe you'd like the list of the NBC and NBC Sports Network (NBCSN) scheduled televised events, that you can cross reference with the official Olympics schedule that has the medal matches included:
Starting tonight:
Feb. 9
Opening Ceremony: NBC at 8 p.m. ET/5 p.m. PT, encore at 11 p.m. ET/ 8 p.m. PT
Cross-Country (women's): NBCSN at 2 a.m. ET/ 11 p.m. PT
Feb. 10
Short Track (men's): NBCSN at 5 a.m. ET/ 2 a.m. PT
Hockey (women's): USA at 7 a.m. ET/ 4 a.m. PT
Ski Jumping (men's): NBCSN at 7:35 a.m. ET/4:35 a.m. PT
Snowboarding (men's): NBCSN at 9:15 a.m. ET/6:15 a.m. PT
Luge (men's): NBCSN at 11:30 a.m. ET/8:30 a.m. PT
Speed Skating (women's), Biathlon (women's): NBCSN at 1 p.m. ET/10 a.m. PT
Short Track , Ski Jumping (men's,), Snowboarding (men's), Luge (men's): NBC at 3 p.m. ET/noon PT
Figure Skating, Alpine Skiing (men's): NBC at 8 p.m. ET/ 5 p.m. PT, encore at 12:30 p.m. ET/9:30 p.m. PT
Snowboarding (men's): NBCSN at 8 p.m. ET/5 p.m. PT
Curling: NBCSN at 9:45 p.m. ET/6:45 p.m. PT
Figure Skating: NBC at 11:30 p.m. ET/8:30 p.m. PT
Snowboarding (women's): NBCSN at 11:30 p.m. ET/8:30 p.m. PT
Curling: NBCSN at 1:30 a.m. ET/10:30 p.m. PT
Feb. 11
Hockey (women's): NBCSN at 2:40 a.m. ET/11:40 a.m. PT
Speed Skating (men's), Biathlon (men's): NBCSN at 5 a.m. Et/2 a.m. PT
Hockey (women's): USA at 7 a.m. ET/ 4 a.m. PT
Cross-Country (men's): NBCSN at 7:45 a.m. ET/4:45 a.m. PT
Luge (men's): NBCSN at 1:30 p.m. ET/10:30 a.m. PT
Speed Skating (men's), Biathlon (men's), Cross-Country (men's): NBC at 3 p.m. ET/ noon PT
Luge (men's), Freestyle, Alpine Skiing, Snowboarding, Figure Skating: NBC at 7 p.m. ET/ 4 p.m. PT, encore at 1 a.m. ET/ 10 a.m. PT
Biathlon (men's): NBCSN at 7 p.m. ET/4 p.m. PT
Snowboarding (women's): NBCSN at 8 p.m. ET/ 5 p.m. PT
Speed Skating (men's): NBCSN at 11:30 p.m. ET/ 8:30 p.m. PT
Feb. 12
Biathlon (women's), Luge (women's): NBCSN at 5:10 a.m. ET/2:10 a.m. PT
Freestyle Skiing (men's): NBCSN at 10 a.m. ET/7 a.m. PT
Ski Jumping (women's): NBCSN at 11 a.m. ET/ 8 a.m. PT
Biathlon (men's): NBCSN at 12:15 p.m. ET/9:15 a.m. PT
Speed Skating (women's): NBCSN at 1:30 p.m. ET/10:30 a.m. PT
Freestyle (men's), Ski Jumping (women's), Luge (women's), Biathlon (women's): NBC at 3 p.m. ET/noon PT
Hockey: NBCSN at 5 p.m. ET/ 2 p.m. PT and 10 p.m. ET/7 p.m. PT
Snowboarding (women's), Alpine (men's), Speed Skating (women's): NBC at 8 p.m. ET/ 5 p.m. PT
Curling: NBCSN at 12:05 p.m. ET/9:05 p.m. PT
Feb. 13
Cross-Country, Luge (women's): NBCSN at 5 a.m. ET/ 2 a.m. PT and 9:30 a.m. ET/6:30 a.m. PT
Speed Skating (men's): NBCSN at 11:30 a.m. ET/ 8:30 a.m. PT
Short Track (women's): NBCSN at 12:30 p.m. ET/ 9:30 a.m. PT
Curling: NBCSN at 2:30 p.m. ET/ 11:30 a.m. PT and CNBC at 5 p.m. ET/ 2 p.m. PT
Speed Skating (men's), Luge (women's), Cross-Country: NBC at 3 p.m. ET/ noon PT
Alpine Skiing (women's), Snowboarding (men's), Figure Skating: NBC at 8 p.m. ET/ 5 p.m. PT
Figure Skating: NBCSN at 8 p.m. ET/5 p.m. PT
Alpine Skiing (women's), Short Track: NBC at 12:05 a.m. ET/9:05 p.m. PT
Feb. 14
Nordic Combined (women's), Skeleton (women's): NBCSN at 2:30 a.m. ET/11:30 p.m. PT
Speed Skating (women's): NBCSN at 5 a.m. ET/ 2 a.m. PT
Hockey (men's): NBCSN at 6:30 a.m. ET/ 3:30 a.m. PT and USA at 7 a.m. ET/4 a.m. PT
Skeleton (women's), Luge: NBCSN at 9:30 a.m. ET/6:30 a.m. PT
Biathlon (women's): NBCSN at 11:30 a.m. ET/8:30 a.m. PT
Luge (men's), Nordic Combined (men's): NBC at 3 p.m. ET/noon PT
Skeleton (men's), Speed Skating (women's), Alpine (men's), Figure Skating: NBC at 8 p.m. ET/5 p.m. PT, encore at 2 a.m. ET/ 11 p.m. PT
Figure Skating: NBCSN at 8:30 p.m. ET/5:30 p.m. PT
Hockey (women's): NBCSN at 10:10 p.m. ET/7:10 p.m. PT
Snowboarding (men's), Skeleton (men's): NBC at 12:05 p.m. ET/9:05 p.m. PT
Feb. 15
Cross-Country (women's): NBCSN at 5 a.m. ET/ 2 a.m. PT
Luge, Speed Skating (men's): NBCSN at 9:30 a.m. ET/ 6:30 a.m. PT
Biathlon (men's): NBCSN at noon ET/ 9 a.m. PT
Cross Country (women's), Speed Skating (men's): NBCSN at 3 p.m. ET/ noon PT
Curling (women's): CNBC at 5 p.m. ET/ 2 p.m. PT
Freestyle (women's), Skeleton (men's), Snowboarding (women's), Figure Skating(men's): NBC at 8 p.m. ET/ 5 p.m. PT
Figure Skating (men's): NBCSN at 8 p.m. ET/ 5 p.m. PT
Curling (men's): NBCSN at 11 p.m. ET/8 p.m. PT
Luge, Biathlon (men's): NBC at 1 a.m. ET/ 10 p.m. PT
Feb. 16
Hockey (men's): NBCSN and USA at 7 a.m. ET/ 4 a.m. PT
Speed Skating (women's), Ski Jumping (men's): NBCSN at 10:45 a.m. ET/ 7:45 a.m. PT
Ski Jumping (men's), Speed Skating (women's), Cross-Country (men's): NBC at 3 p.m. ET/noon PT
Freestyle (women's), Skeleton (women's), Alpine (women's), Figure Skating(men's): NBC at 8 p.m. ET/ 5 p.m. PT
Figure Skating (men's): NBCSN at 8 p.m. ET/ 5 p.m. PT
Freestyle Skiing (women's), Figure Skating: NBC at 12:30 p.m. ET/ 9:30 p.m. PT
Curling (women's): NBCSN at 12:30 p.m. ET/ 9:30 p.m. PT
Feb. 17
Hockey (men's): NBCSN and USA at 7 a.m. ET/ 4 a.m. PT
Cross-Country (women's): NBCSN at 10:30 a.m. ET/ 7:30 a.m. PT
Biathlon (women's): NBCSN at 11:30 a.m. ET/ 8:30 a.m. PT
Short Track: NBCSN at 12:30 p.m. ET/ 9:30 a.m. PT
Skeleton (women's): NBCSN at 1:30 p.m. ET/ 10:30 a.m. PT
Ski Jumping (men's): NBCSN at 2:30 p.m. ET/ 11:30 p.m. PT
Biathlon (women's), Freestyle Skiing (men's), Cross-Country (women's): NBC at 3 p.m. ET/ noon PT
Alpine (men's), Skeleton (women's), Ski Jumping (men's), Short Track: NBC at 8 p.m. ET/ 5 p.m. PT
Freestyle Skiing (men's): NBCSN at 8 p.m. ET/ 5 p.m. PT
Hockey (men's): NBCSN at 10:10 p.m. ET/ 7:10 p.m. PT
Alpine Skiing (men's), Freestyle Skiing (men's): NBC at 11:30 p.m. ET/ 8:30 p.m. PT
Feb. 18
Hockey (men's): NBCSN and USA at 7 a.m. ET/ 4 a.m. PT
Bobsled (men's): NBCSN at 9:30 a.m. ET/ 6:30 a.m. PT
Freestyle Skiing (men's): NBCSN at 10:15 a.m. ET/ 7:15 a.m. PT
Speed Skating (women's): NBCSN at 11:15 a.m. ET/ 8:15 a.m. PT
Biathlon (men's): NBCSN at noon ET/ 9 a.m. PT
Cross-Country (men's): NBCSN at 1 p.m. ET/ 10 a.m. PT
Biathlon (men's), Speed Skating (men's), Freestyle Skiing (men's): NBC at 3 p.m. ET/ noon PT
Curling (men's): CNBC at 4 p.m. ET/ 1 p.m. PT
Bobsled (men's), Speed Skating (women's), Freestyle (women's), Figure Skating(women's): NBC at 7 p.m. ET/ 4 p.m. PT
Figure Skating: NBCSN at 8 p.m. ET/ 5 p.m. PT
Hockey (women's): NBCSN at 11 p.m. ET/ 8 p.m. PT
Snowboarding (women's): NBC at 12:30 p.m. ET/9:30 p.m. PT
Feb. 19
Hockey (women's): NBCSN at 7 a.m. ET/ 4 a.m. PT
Ski Jumping (men's): NBCSN at 9:30 a.m. ET/ 6:30 a.m. PT
Bobsled (men's), Speed Skating (men's): NBCSN at 11 a.m. ET/8 p.m. PT
Curling (men's): NBCSN at 12:30 p.m. ET/ 9:30 a.m. PT
Ski Jumping (men's), Speed Skating: NBC at 3 p.m. ET/ noon PT
Bobsled, Freestyle Skiing (women's), Figure Skating: NBC at 8 p.m. ET/ 5 p.m. PT
Figure Skating: NBCSN at 8 p.m. ET/ 5 p.m. PT
Hockey (men's): NBCSN at 10:10 p.m. ET/7:10 p.m. PT
Freestyle Skiing (men's): NBC at Midnight ET/ 9 p.m. PT
Feb. 20
Hockey (men's): NBCSN and USA at 7 a.m. ET/ 4 a.m. PT
Nordic Combined: NBCSN at 9:30 a.m. ET/ 6:30 a.m. PT and noon ET/ 9 a.m. PT
Biathlon: NBCSN at 10:30 a.m. ET/ 7:30 a.m. PT
Short Track: NBCSN at 12:45 p.m. ET/ 9:45 p.m. PT
Curling (women's): NBCSN at 2 p.m. ET/ 11 a.m. PT
Nordic Combined, Biathlon: NBC at 3 p.m. ET/noon PT
Snowboarding (men's), Bobsled (women's), Alpine (women's), Figure Skating(women's): NBC at 8 p.m. ET/5 p.m. PT
Figure Skating (women's): NBCSN at 8 p.m. ET/ 5 p.m. PT
Curling (women's): NBCSN at 10:45 p.m. ET/ 7:45 p.m. PT
Freestyle Skiing, Short Track: NBC at 1 a.m. ET/ 10 p.m. PT
Feb. 21
Hockey (men's): NBCSN and USA at 7 a.m. ET/ 4 a.m. PT
Bobsled (women's): NBCSN at 9:30 a.m. ET/ 6:30 a.m. PT
Cross-Country, Speed Skating: NBCSN at 10:45 a.m. ET/ 7:45 a.m. PT
Curling (men's): NBCSN at 2 p.m. ET/ 11 a.m. PT
Cross-Country (men's), Speed Skating: NBC at 3 p.m. ET/ noon PT
Freestyle Skiing (men's), Bobsled (women's), Alpine Skiing, Cross-Country(women's): NBC at 8 p.m. ET/ 5 p.m. PT
Curling (women's): NBCSN at 8 p.m. ET/ 5 p.m. PT
Hockey (women's): NBCSN at 10:45 p.m. ET/ 7:45 p.m. PT
Alpine Skiing (men's): NBC at 11:30 p.m. ET/ 8:30 p.m. PT
Feb. 22
Short Track: NBCSN at 7:45 a.m. ET./ 4:45 a.m. PT
Curling (men's): NBCSN at 1:45 p.m. ET/ 10:45 a.m. PT and 10 p.m. ET/ 7 p.m. PT
Nordic Combined, Biathlon (women's): NBC at 3 p.m. ET/ noon PT
Short Track, Snowboarding (women's), Alpine (women's), Figure Skating(women's): NBC at 8 p.m. ET/ 5 p.m. PT
Alpine Skiing (women's), Freestyle Skiing (women's): NBC at 12:30 p.m. ET/ 9:30 p.m. PT
Short Track: NBCSN at 12:30 p.m. ET/ 9:30 p.m. PT
Feb. 23
Hockey (men's): NBCSN at 7 a.m. ET/ 4 a.m. PT
Curling (men's): NBCSN at 9:30 a.m. ET/ 6:30 a.m. PT
Curling (women's): NBCSN at 12:30 p.m. ET/ 9:30 a.m. PT
Biathlon, Figure Skating (women's): NBC at 3 p.m. ET/ noon PT
Bobsled, Speed Skating, Snowboarding, Alpine: NBC at 8 p.m. ET/ 5 p.m. PT
Biathlon (men's): NBC at 8 p.m. ET/ 5 p.m. PT
Curling (women's): NBCSN at 9:30 p.m. ET/ 6:30 p.m. PT
Snowboarding: NBC at 11:30 p.m. ET/ 8:30 p.m. PT
Cross-Country (men's): NBCSN at Midnight ET/ 9 p.m. PT
Feb. 24
Hockey (men's): NBCSN at 6:30 a.m. ET/ 3:30 a.m. PT
Curling (women's): NBCSN at 11 a.m. ET/ 8 a.m. PT
Hockey (men's): NBCSN at 2 p.m. ET/ 11 a.m. PT
Speed Skating, Cross-Country: NBC at 3 p.m. ET/ noon PT
Curling (men's): NBCSN at 4 p.m. ET/ 1 p.m. PT
Curling (women's): NBCSN at 7 p.m. ET/ 4 p.m. PT
Bobsled (men's), Figure Skating: NBC at 8 p.m. ET/ 5 p.m. PT
Hockey (men's): NBCSN at 10:30 p.m. ET/ 7:30 p.m. PT
Feb. 25
Cross-Country (women's): NBC at 3 p.m. ET/ noon PT
Closing Ceremony: NBC at 8 p.m. ET/ 5 p.m. PT, encore at 11 p.m. ET/ 8 p.m. PT