Orca The Killer Whale Coming To Blu-ray June 30th From Scream Factory
Orca The Killer Whale will head to Blu-ray thanks to Scream Factory on June 30th. The 1977 cult classic from director Michael Anderson stars Richard Harris, Charlotte Rampling, Will Sampson, Bo Derek, and Keenan Wynn in a film trying desperately to capitalize on the Jaws craze. It was actually a sad film, with Orca The Killer Whale featuring a vengeful orca trying to administer justice to the fisherman who killed his pregnant mate. It was a minor success when it was released but panned by critics. Over the years, it has been shown during a bunch of midnight movie screenings. Check out the Blu-ray cover art for Orca The Killer Whale down below.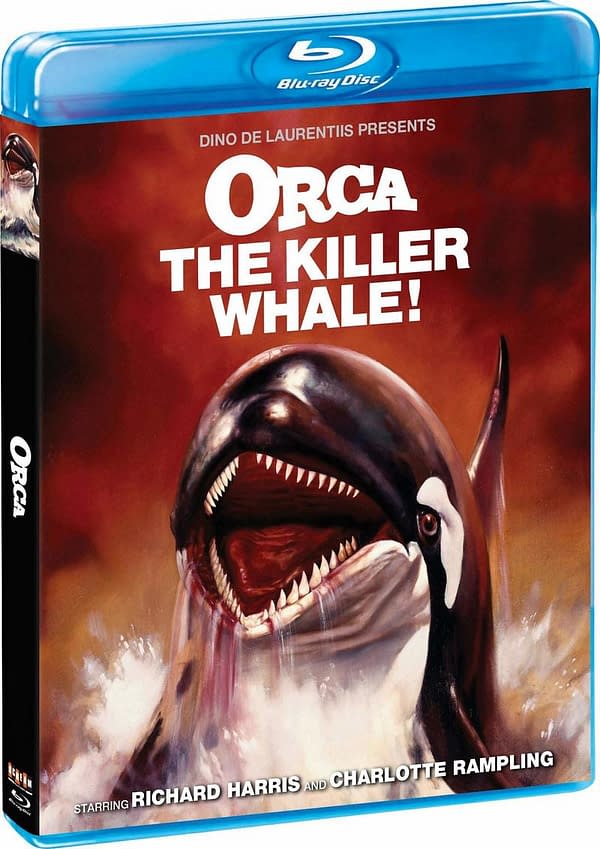 Orca The Killer Whale Blu-ray Details
"Sleek, intelligent, beautiful … and hell-bent on revenge. Producer Dino De Laurentiis (King Kong, Ragtime) and director Michael Anderson (Around The World In 80 Days, Logan's Run) join forces to present the rousing action-adventure tale of Orca: The Killer Whale. It's the story of one powerful being against another: a strong, determined fisherman by the name of Captain Nolan (Richard Harris, Unforgiven) versus an equally determined killer whale. When the giant whale's pregnant mate is maimed and killed by Nolan, the whale seeks vengeance: smashing boats, attacking a seacoast village, and eventually luring his human adversaries to a final confrontation in the marine creature's own arctic turf. Charlotte Rampling, Will Sampson, and Bo Derek (in her feature film debut) also star in this seafaring epic brimming with nail-biting suspense and spectacular special effects."
Special Features and Technical Specs:
Audio Commentary with author/film critic Lee Gambin
Theatrical Trailer
Optional English subtitles for the main feature
A weird kinda barebones release from Scream Factory; it's probably not their fault, as I cannot imagine that there is a ton of content available to them from the making of this one. It would have been cool for them to get interviews with some of the cast, but oh well. My biggest memory of this film is that the ad for it is on the back cover of almost every comic published in 1977, and it makes me smile whenever I take a comic out of a bag and board. Orca The Killer Whale hits Blu-ray on June 30th.