RAW 25: Yes! Yes! Yes! Daniel Bryan Makes His Entrance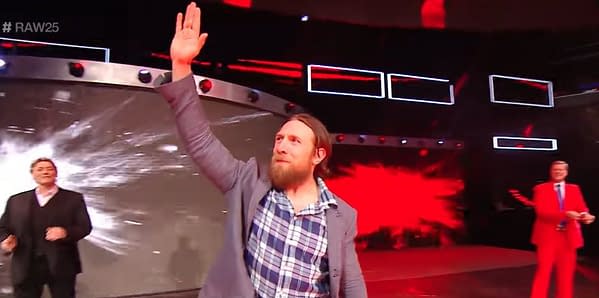 WWE rocked our socks off with Raw 25 last night — Daniel Bryan was even brought out, and I for one am always happy to see him!
Monday Night Raw has gone through a few general managers: John Laurinaitis, William Regal, and Eric Bischoff. Bischoff still surprises me. I clearly remember the WWF/WCW Monday night wars. My dad would switch between the two programs, which annoyed me. I always preferred WWF. They had the 123 Kid, Shawn Michaels, and Razor Ramon. Ultimately WWF won the war — and then lost their name — but Bischoff has done fine since then. Even when he was GM for Raw (2002-2005) I still felt just… odd. In a good way, but as I got older I began to miss WCW and the wars. Those were the days.
NOW IT'S A PARTY! YES! YES! YES!#RAW25 @WWEDanielBryan @RealKingRegal @EBischoff @JohnLaurinaitis pic.twitter.com/o5jfUQM27A

— WWE (@WWE) January 23, 2018