The BBC have announced a new remastering of the recovered and restored classic Doctor Who adventure Doctor Who: The Enemy of the World starring Patrick Troughton as The Doctor on DVD.
Released on 19th March, it is available to pre-order here.
Once five of the six episodes were thought lost. Recently recovered, a version was released in 2013, but Peter Crocker of the Restoration Team have been working on the episodes further since, to restore them closer to the original film.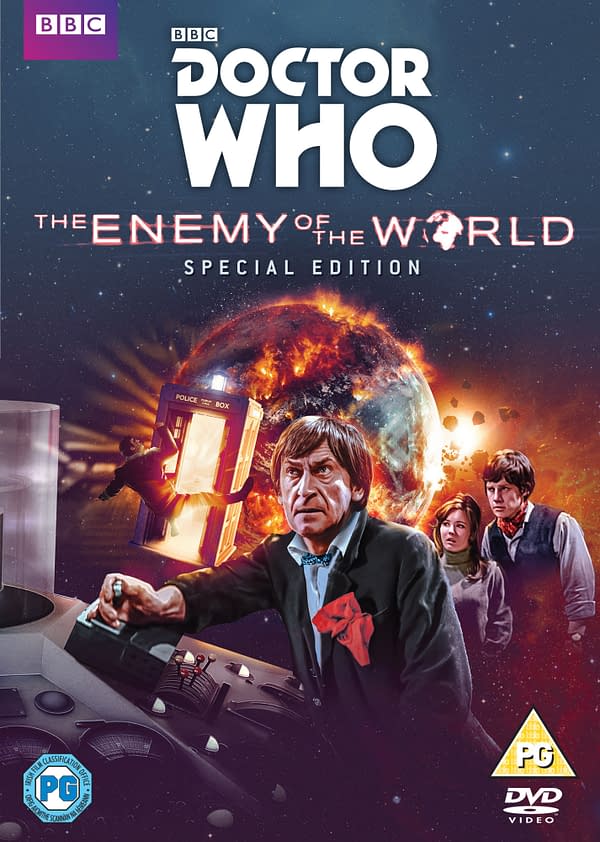 The TARDIS lands on an Australian beach in the 21st century. But this is no seaside holiday – within minutes, the Doctor, Jamie and Victoria are under attack. They soon discover that the Doctor bears a startling resemblance to Leader Salamander, a would-be dictator intent on world domination. Before long, the Doctor and his companions are plunged into a dangerous game of intrigue and deceit as they face off against the enemy of the world…
BONUS CONTENT
"Treasures Lost and Found" – produced by Ed Stradling.
With so much information now available about every Doctor Who serial, it's not easy to learn anything new, so Toby Hadoke embarks on an exciting treasure hunt to find out all he can about the production. Along the way he'll interview some of the cast and crew including Frazer Hines, Mary Peach and David Troughton — who made his first TV appearance in this serial as an extra.
"Recovering the Past – The Search for The Enemy of the World" – produced by Paul Vanezis.
A brand-new interview with the episode hunter Philip Morris, we hear how he tracked down the last surviving film copy of the serial to a dusty room in the African desert.
"Remembering Deborah Watling" – produced by Cameron McEwan.
Family, friends and colleagues pay tribute to Debbie Watling, who played Victoria Waterfield, companion to Patrick Troughton's doctor.
Audio commentaries on all six episodes produced by John Kelly. Contributors include Frazer Hines, Mary Peach, Gordon Faith, Milton Johns and Sylvia James. Moderator is Simon Harries.
Production subtitles on all six episodes written by Martin Wiggins.
Photo gallery produced by Derek Handley.
Scripts of all six episodes as PDFs
Enjoyed this article? Share it!