Posted in: Conventions, Cosplay, Movies, WonderCon | Tagged: #WakandaForever, black panther, costume, danai gurira, Dora Millaje, interview, interviews, iron man, jack kirby, Letitia Wright, marvel, Okoye, riri williams, Ruth Carter, Ruth E. Carter, ryan coogler, shuri, T'Challa, Wakanda
---
'Black Panther' Costume Designer Ruth Carter Talks Wakanda's Influences and Cosplayers
WonderCon 2018 had some pretty great moments, but the highlight for me was getting to speak with Black Panther costume designer Ruth Carter.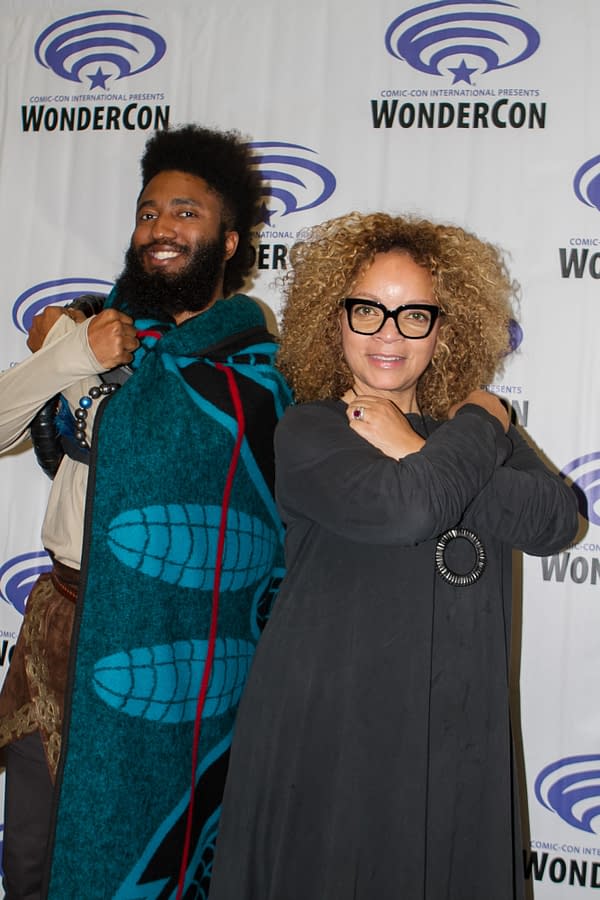 "Welcome to Wakanda," Ruth said, as she took her seat at my table. I immediately asked her about the cosplayer dressed in a Border Tribe blue vibranium blanket and armor, what she thought about seeing him in the room too.
"YESSSSSS, really cool!"
I continued by asking her how much Black Panther cosplay she'd seen in person, as Wakanda was well represented in Anaheim.
"Nothing. That was the first, but I'm going to go down and walk the floor after this."
"Oh man, you are in for a treat! There was a guy in full Killmonger yesterday, shirtless with complete scarification," I said.
Ruth made a deep growly sound of appreciation, and so of course I had to show her the photo my friend Danny D Photography had gotten of the cosplayer the day before. (His makeup was applied by Cinemakeup School, who did live demos of various forms of makeup during the con.)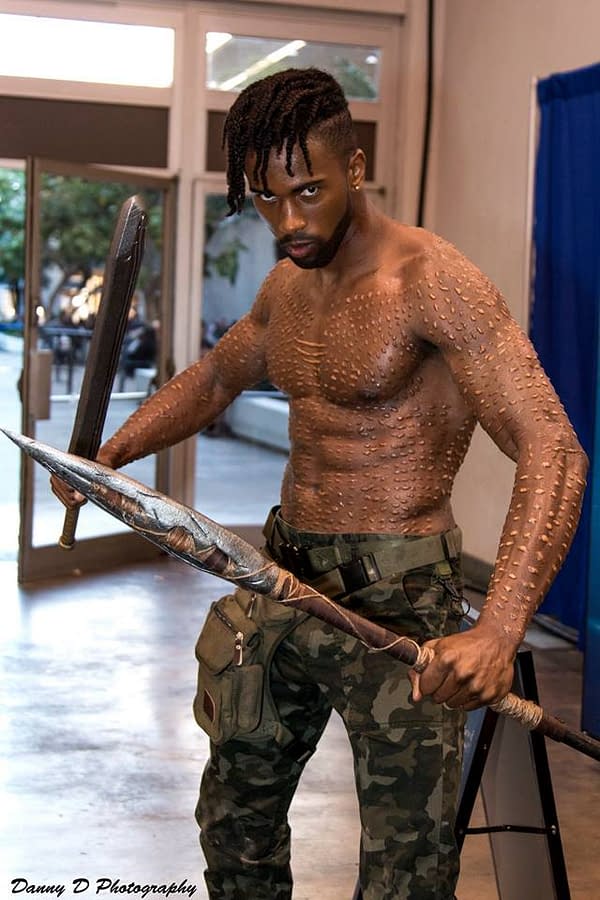 "OHHHHH WOW!! Exciting," she exclaimed. "We really are setting up a new generation of cosplayers. I am just amazed at how the response of the kids- another element to the fandom. It was a huge responsibility on my part, because everybody who loved Black Panther comics was like 'I've been waiting my whole life for this', so that's where they got the line from in the movie."
"I do think there was a certain level of artistic license, not only with what we did, but every comic adoration of the book like Ta Nehisi Coates, Black Panther illustrators, Reggie Hudlin's, so when I started to study Wakandan images in the comics, 'oh there's a theme here' or 'theres an idea here', but we can actually bring it forward with technology."
When asked about blending the tribal looks with vibranium, Ruth brought up the Basotho Blankets:
"We had to do those blankets over and over and over again for many reasons, but mostly to get the vibranium right. We'd show Ryan Coogler a beautiful design of a Basotho Blanket that we'd silk screened with the silver metallic paint and heat pressed it, and he'd say something like 'You know, vibranium is the strongest metal known to man, and this is cracked and wobbly' so we'd have to go back and re do it, and just sort of aaaaagh, this vibranium is killing us! So we knew it was silver, it had to be silver, but it also had to have a level of strength to it when it's presented. I ended up putting it in several things here and there."
My table consisted of two other outlets, one of which hadn't seen the film yet. Ruth sort of goodnaturedly tisked him, in an obviously joking way, when he began to ask questions about Stan Lee's influence on the film (yes, he asked about Lee's influence, not as Ruth corrected him, Jack Kirby's).
"I think the African diaspora has been alive and well during the generations. And during the 60's with the Civil Rights Movement and Malcolm X [editor's note: Ruth was nominated for an Oscar for her costume designs for the 1993 Malcolm X film], Stokely Carmichael, Martin Luther King, Kirby and Stan thought there needed to be a black superhero, and so they created one. It was a sign of the times, it was a way of protesting what was happening.

When you look back at the Black Panther party, they were always very into infusing African into the movement. It was appropriate for the times, and ironically, appropriate for today.

I'd leaned on Marvel to give me the culture of the comic, to give me clues, like with Klawe, his back story, this arms dealer. And he was great in the movie wasn't he? Like oh my god, Andy Serkis was fantastic, yelling out 'I made it rain!'

We took pretty much all the comics, studied them all, and Ryan was very specific with motifs he liked over others. There were some times he really liked the way this character was shown and designed, but not this other one from the same book.

Like M'Baku, he wasn't represented in a good light at all, and so we shied away from doing anything with him like that. He was a studied comic book fan, that Ryan Coogler. He gave me direction, as a director does, in terms of what he wanted. I carried through some of what he wanted and added in my own aesthetic.

Africa was our landscape, but we pinpointed where each tribe drew their inspiration from. The Jobari was Dogan, the River Tribe was Serma, the Dora wore the neck rings of the Ndebele tribe and the skirts of the Himba tribe, so we connected all the elements.

Ryan wanted the Dora to be covered, from neck to wrists, from head to toe. They had to be a real fighting force, like the Navy Seals of Wakanda. There's not many of them, so we had to give them a brilliance, like in their red color, and their armor pieces. But he also said he wanted the armor to feel like jewelry. We plated it in many different ways, Anthony Francesco (Marvel visual department) designed a necklace for the Dora, and I hired a real jewelry designer who understood the African jewelry. I wanted them hand done with the feel of real African jewelry."
My table also had some questions about Okoye's (Danai Gurira) red casino dress. Specifically finding the balance between stylish and fighty:
"I found an idea, and I developed the idea. Ryan wanted it to be the most vibrant red we could find, we tried a blue and an orange red. We drove around a parking lot with a stunt girl on top of the car, testing that dress over and over again to see if the skirt was going to fly up high enough. And I kept thinking, 'do we need wires or something?' because like, you visual effects people can do whatever you want, but the dress really performed. It was a practical effect! We had a girl from the Boston Ballet, who did ballet costumes and dance, make that dress so it would just fly."
At this point, I knew our time was drawing to a close with Ruth, so I asked a question I've had since the first images of Princess Shuri in an orange-red vest had been released.
"That brilliant orangey red vest that Princess Shuri wears is very similar to something that comic book character RiRi Williams wears when she takes over the Iron Man mantle-
"WOW!" Ruth exclaimed.
"Was that intentional maybe? Because we know that Robert Downey Jr. has pretty much confirmed that he's done after this round of Marvel movies, and wouldn't Shuri just be the most badass Iron Man ever?" I continued.
"WHAT. WOW. Wouldn't she though? I'm just saying. She was so funny and so good. At first the DP didn't want that orange vest, because it was so bright. So we made a dull one and I was just like [dejected sound] ugh. And so Letitia Wright said 'You have to fight for it, Ruth' and so I was like 'ok! I'm gonna fight for the orange!' and I'm so glad I did. It looked so pretty. And I'm influenced by modern fashion, and I had so many tearsheets. Gareth Pugh who's very futuristic with his designs, I love Rick Owens, so that vest probably came from some of that research."
***
Here's hoping that when the next round of awards shows hit in 2019, Ruth and her amazing team will be remembered and rewarded for their work on Black Panther.
---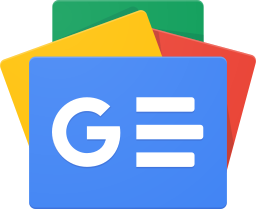 Stay up-to-date and support the site by following Bleeding Cool on Google News today!