Mike Flanagan, who has already worked on a few different Stephen King films, is doing another. He and Trevor Macy will co-write an adaptation of King's 2014 novel Revival for Warner Bros. Pictures. Flanagan will direct as well. The duo was responsible for last year's The Shining sequel Doctor Sleep, also for Warner Bros. Mike Flanagan will write the script with he and Macy producing. Flanagan will have the option to direct as well. On top of Doctor Sleep, Flanagan has also directed Gerald's Game for Netflix based on the King story of the same name. The duo is also responsible for the excellent Netflix series The Haunting of Hill House. Mike made an appearance on The Kingcast this week, in an excellent episode on 1408, and talked a little about what he is doing with Revival, which he says will be his darkest adaptation of a King novel yet.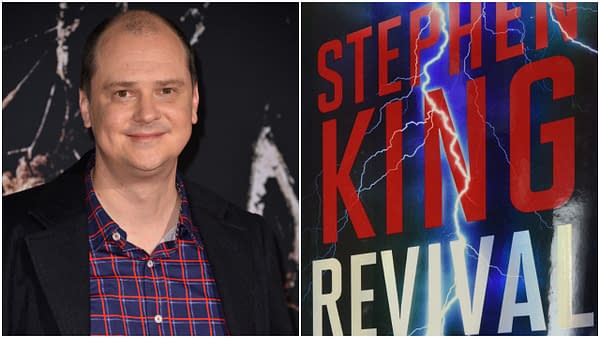 Revival Will Be Good Because of Flanagan
"What I love about it is it's a return to cosmic horror, which I think is so fun," Flanagan said (via Digital Spy). "It is relentlessly dark and cynical, and I'm enjoying the hell out of that… I haven't gotten to end a movie [this] way since 'Absentia,' maybe? Maybe 'Ouija'? This one was a really fun piece of material for me because I get to be like, 'Oh, you want a dark ending? Cool, get ready.'"
Revival follows a "relationship between a heroin-addicted musician and a dubious faith healer with a hidden agenda. The minister is obsessed with trying to find a way to communicate with his departed wife and child but ends up connecting to a Lovecraftian horror." It sounds like a whole lot of personal trauma and damage, two things that Mike Flanagan excels at. Every story he touches has a flavor of personal accountability and personal trauma the characters have to deal with, and each and every one of them is moving and well-done. I won't lie, I don't just think Mike Flanagan is the best horror director working today. I think he is the best director period. Mike doing more King can only be a good thing and a treat for all of us.
Enjoyed this article? Share it!