Rifftrax Chats About Their Upcoming "Summer Shorts Beach Party" Live Event
Rifftrax is planning a couple special events for us this summer. We already mentioned the Doctor Who special a few months ago as they'll be riffing on "The Five Doctors" for a live show. But next week on Thursday, June 15, the trio will be getting the band back together for another round of educational shorts in "Summer Shorts Beach Party!" (With an encore on Tuesday, June 20.)
Bill Corbet, Kevin Murphy, and Mike Nelson will be bringing in the talents of fellow former Mystery Science Theater 3000 alumni to make fun of old-school educational programming like only they can and broadcasting it live to movie theaters across the country from the Belcourt Theatre in Nashville, Tennessee. The special guests include Bridget Nelson, Mary Jo Pehl, Trace Beaulieu, Frank Conniff, and special celebrity guest Paul F. Tompkins!
Before the event happens next week, we got a chance to chat with Mike and Kevin about the show and a couple other topics.
Mike Nelson & Kevin Murphy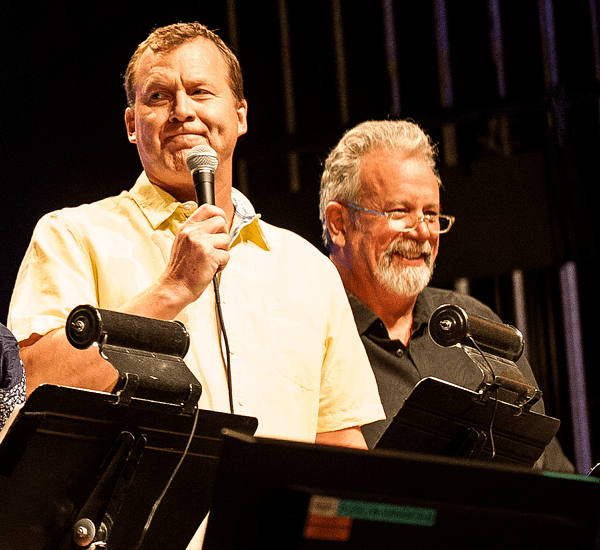 BC: How's 2017 been treating you so far?
MIKE: Well enough, though I admit I'm not a fan of the forward progression of time. Toward, you know, the grave.
KEVIN: Well it's the Year of the Rooster, so I've found my Foghorn Leghorn impression to be indispensable. Also, you turn 2017 upside down and it spells "LIOZ," so that must mean something.
I have to ask, how did you enjoy the new season of MST3K?
MIKE: I only caught snippets, looked great to me.
KEVIN: I've gotten to know the cast members, especially Jonah Ray and head writer Eliot Kalan, two very sweet and funny guys, and I think they've done a fine job with a very challenging task.
You're gearing up for a new live show this coming week. What made you decide to do one made up entirely of shorts again?
MIKE: The shorts are a great change up from the features because there's just so much weirdness and surprise out there that gets overlooked simply because they're not feature films.
KEVIN: They're so much fun to write, perform, [and] watch. They're like movie dim sum. I love how quickly they can get really, REALLY weird. A feature film just can't do that. And believe me, a few of the shorts we have lined up do just that.
What was the selection process like for this specific run? How do you figure out the best educational pieces to fit together?
MIKE: Just a ton of screening. Picture Clockwork Orange-eyes-pried-open-style viewing and you get the idea.
KEVIN: I think Bill has a good instinct for what works live. I just look for the ones that make me sort of giddy and eager to dive in, some combination of seriousness and unintentional dopiness, and it never hurts to have a magical creature browbeating some poor dumb kid about safety or hygiene.
What's it like for you to bring the gang back together and invite Bridget, Frank, Mary Jo and Trace for this one?
MIKE: Always great, always fun. We still make one another laugh and that to me is a precious commodity.
KEVIN: At this point, it's like family. And good family, family you love, family you enjoy being with—not like cousins who bring off-brand lite beer to the picnic or nephews who wipe their boogers on their shirts.
How did you end up deciding to have Paul F. Tompkins again for this particular show?
MIKE: Because he's one of the funniest guys on the planet. That's an easy sell.
KEVIN: Paul is simply one of the funniest people I know, and he's brilliant at improvising, nothing fazes him onstage. plus he's a really really nice man, and I'm so grateful that he enjoys riffing with us.
Without giving away too much, are there any particular shorts you've enjoyed the most from this show?
MIKE: Well, we open with one featuring a very odd mascot; the animal it represents has probably never been attempted before and after viewing this, you'll understand why.
KEVIN: I really love them all, but there's one in particular that's like a visit to a Bizarro World grade school gym class that gets me laughing out loud from start to finish, every time.
You probably get asked this all the time, but is there any chance you'll take the show on the road like Cinematic Titanic used to do and broadcast live in places beyond Nashville? Or has that theater become the resident home for Rifftrax Live! at this point?
MIKE: We have done it before and probably will again.
KEVIN: We've done live shows in other cities, particularly here in the Twin Cities and probably will in the future. But Nashville is kind of perfect for what we do. Plus they have barbecue. I mean REALLY great barbecue.
The next one you got lined up is the Doctor Who event. We'll probably chat about it at another time, but what are your thoughts on the fandom that rose in support of the show when it was announced?
MIKE: Fantastic. We're blessed to have a terrific and supportive fan base.
KEVIN: I'm so happy that so many Rifftrax and Doctor Who fans are excited about this show. "The Five Doctors" episode is classic old Doctor Who, with all its low-budget early BBC production values and corniness. It's the Doctor Who I grew up with, soI'm looking at it as a kind of roast for something I still have a lot of affection for. And to all you Doctor Who fans, we promise we won't break the show.
What else have you guys got lined up for 2017?
MIKE: While working on the live shows we're always cranking out new material on the site and we recently landed a mother lode of movies that are great and will keep us busy for a long long time.
KEVIN: We have a lot of truly weird and wonderful feature films in the schedule. They keep crawling out from under rocks. Oh, and this year we have a preponderance of movies featuring bears.