Mayweather vs McGregor may be the interpromotional venture everyone is talking about this morning, but another team-up arguably just as important also took place this weekend. Ring of Honor pro wrestler Cody Rhodes and Arrow star Stephen Amell have teamed up to make pro-wrestling themed wines for Amell's Nocking Point Wine Club.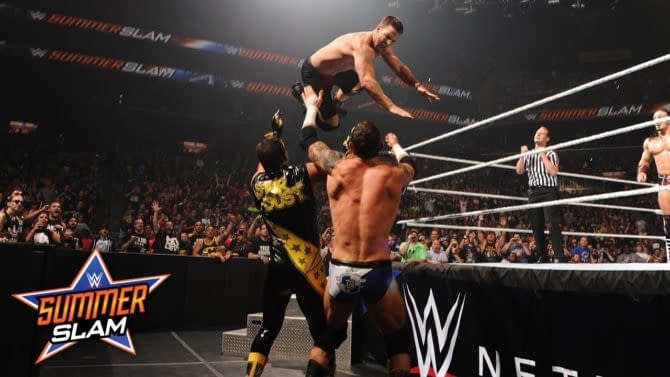 Of course, this isn't the first time Amell and Rhodes have crossed paths. Like Mayweather and McGregor, Amell and Rhodes once faced off in a worked fight at WWE SummerSlam in 2015, and Rhodes appeared on Arrow as Derek Sampson.
Rhodes and Amell will create two wrestling-themed wines: Dream, a sparking white wine inspired by Rhodes' father "The American Dream" Dusty Rhodes, and Nightmare, a red inspired by Rhodes' own nickname, The American Nightmare.
"I like to think 'Nightmare' tastes like Klingon bloodwine," said Rhodes in an interview with Sports Illustrated. "The original idea was to create 'Nightmare', but once I heard I'd be working on two bottles, 'Dream' was a no-brainer. There is a personal quote from my father on the bottle that reads, 'You can't be a beacon if yo' light don't shine', and it is such a nice touch. Of all my father's sayings, that is one he regularly told his grandchildren in the last few years of his life."
"Cody feels the same way about Nocking Point that we do," said Amell. "He's so passionate, and his fans are going to dig this. We have paired with some of the very best wine makers in the Pacific Northwest to create interesting, approachable well-priced wine."
The wines will be available only to subscribers of Nocking Point, so sign up today. And don't scoff at the price – especially if you spent $100 on last night's Mayweather/McGregor fight, which didn't even get you wasted.
Enjoyed this article? Share it!