WWE producer and former tag team champion The Road Dogg apologized Saturday for a 2011 tweet calling long-time tag team partner "Mr. Ass" Billy Gunn "gay." According to reports making their way around the wrestling media, Road Dogg's 2011 tweet, which has now been deleted, surfaced on Friday, prompting backlash from fans against the SmackDown Live booker.
Gunn was famously involved in one of pro wrestling's most notorious LGBTQ storylines, when he was set to be married live on Monday Night Raw to his tag team partner at the time, Chuck Palumbo. Advocacy organization GLAAD foolishly gave praised WWE ahead of the wedding and promoted the event, even though pro wrestling weddings end, at best, with somebody bodyslammed through a cake or Stone Cold Steve Austin delivering the Stone Cold Stunner to the wedding party, and at worse with someone discovering a live cobra discovered inside a gift box or Triple H revealing that he'd drugged the bride during her bachelorette party and secretly married her in a Vegas drive-thru. On the night of the wedding, the wrestlers revealed that it was all a publicity stunt created by Billy and Chuck's manager, Rico. At the time, GLAAD issued the statement:
If their behavior is any indication, Billy and Chuck are in denial about who they really are — two gay men who love each other. The couple's actions of affection speak louder than their words of denial. At GLAAD, we know how hard it is for people in the spot light to come out — but when Billy and Chuck are ready to let themselves be who they really are, we'll be there to support them.
But the organization later claimed that WWE lied to them to obtain their support.
In Gunn's WWE theme song, "Ass Man," Gunn is ambiguous about his own sexuality, claiming to be "a lover" of asses "of any kind," further adding that "the best surprises always sneak up from behind." However, later in the song, Gunn did reveal that "girls don't walk behind me on the street" because when they look at Gunn's own ass, Gunn can "feel the heat." Gunn is currently married to his second wife.
In response the response to his 2011 tweet, which read, "Billy Gunn is gay," Road Dogg took to Twitter to issue an apology.
I'm sorry I tweeted that. I was still living wrong at the time apparently. I regret a lot of things I did. I was wrong!

— Brian G. James (@WWERoadDogg) February 17, 2018
"I'm sorry I tweeted that," Road Dogg wrote. "I was still living wrong at the time apparently. I regret a lot of things I did. I was wrong."
Road Dogg, started his career in the music industry, ostensibly as a roadie for country music musician Jeff Jarrett, though it was eventually revealed that Road Dogg was actually the vocalist behind Jarett's hit song, "With My Baby Tonight." The two settled the score in the wrestling ring, and both decided to pursue a career in wrestling after that. Road Dogg was later a member of delinquent group Degeneration X along with Gunn as part of their tag team, the New Age Outlaws. Later in life, presumably after the 2011 tweet, Road Dogg found religion and frequently posts spiritual tweets on Twitter.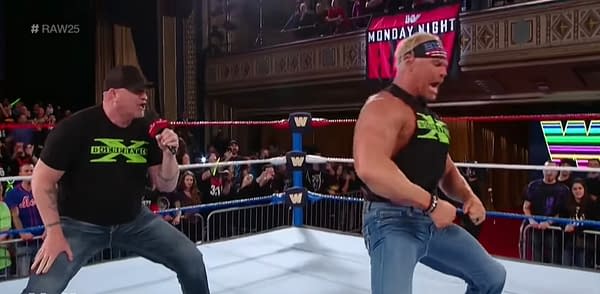 Enjoyed this article? Share it!