China's coveted movie market — and Legendary Entertainment's new owners Dalian Wanda Group and its chairman Wang Jianlin — continue to make their presence known on the Hollywood landscape. This time it's Skyscraper, just announced by Dwayne Johnson on Instagram. Written and directed by Rawson Thurber, the film features a disabled U.S. military veteran and former FBI Hostage Rescue Team leader determined to rescue his family trapped inside the world's largest skyscraper, which is on fire.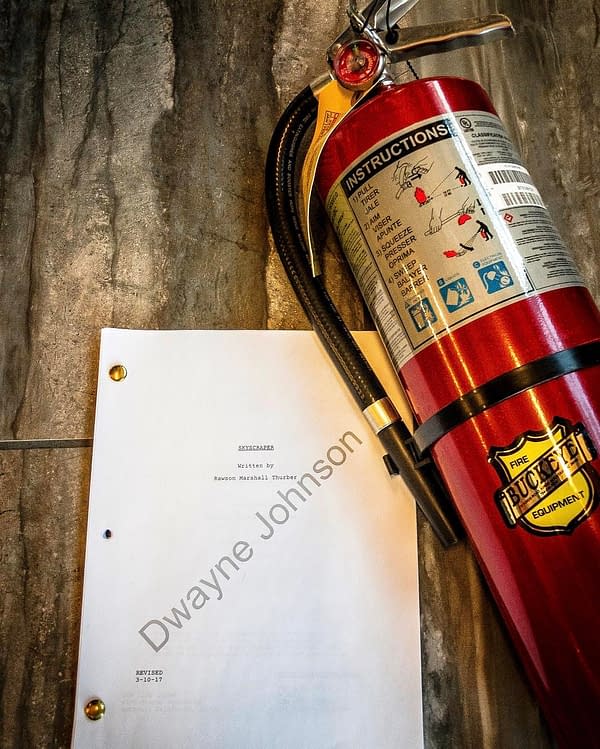 A quick google tells me that China is home to several of the world's tallest buildings, unsurprisingly, and that Shanghai Tower is currently the tallest. However, I don't see an indication as to the location of Skyscraper from the Rock's post — and no building in the world yet approaches the 4,000 ft mark that he mentions — so it may well be a fictional tower in any case.
Rawson Thurber has previously teamed up with the Rock on Central Intelligence, and also has Dodgeball and We're the Millers on his list of credits. Skyscraper is set for release on July 13, 2018.

Grateful to share this big news. Universal Studios and Legendary Pictures have declared JULY 13th 2018 SKYSCRAPER weekend. Massive scale of a movie we've been developing for almost two years and we start shooting this August – in CHINA. Our script, written and to be directed by Rawson Thurber, focuses on the world's largest skyscraper – that's on fire. A towering inferno almost a mile into the sky and my wife and kids are trapped on the top floor.

My character is a disabled US War Vet and former FBI Hostage Rescue Team leader. This character is inspired by the thousands of disabled US veterans and war heroes I've had the honor of shaking hands with over the years. This character is also an homage to the every day man and woman who, despite all odds, will dig deep and do everything possible to protect and save their family.

Research for this film has been a real education for me (and that's saying a lot considering my horrible freshman year GPA) from meeting with the world's top skyscraper architects to spending amazing time with our US combat and disabled vets.
Good thing I'm not afraid of heights. But at 4,000ft it's a different story.
Let's get to work.

#CHINA #SevenBucksProds #FlynnPicturesCo #Zhao #SKYSCRAPER JULY 13th 2018
Enjoyed this article? Share it!