Ready Player One Screenwriter Tapped to Adapt ROM: The Spaceknight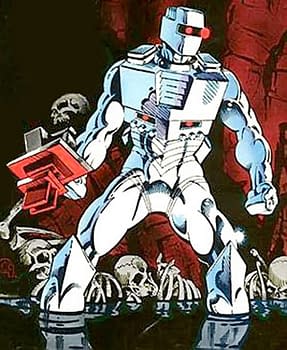 Coming off the adaptation of the Ernest Cline novel Ready Player One for Steven Spielberg, writer Zak Penn has been tapped for the adaptation of ROM: The Spaceknight for Hasbro's Allspark Pictures and Paramount Pictures. Based on the Hasbro toy ROM (short for read-only memory) of the 1980s, it was then introduced to readers in the Marvel Comic series ROM: The Spaceknight where he hailed from the utopian society, Galador and fought to protect the Earth from the invading Dire Wraith.
The comic book backstory was create by Bill Mantlo and Sal Buscema. The toy was created by Scott Dankman, Richard C. Levy and Bryan L. McCoy.
Penn, who started his career writing The Last Action Hero, is known for adapting comics having worked on X-Men 2, X-Men: The Last Stand, Elektra, The Incredible Hulk, and The Avengers, as well as other films like PCU, Behind Enemy Lines and Suspect Zero. He's currently working on a script for Warner Bros. set in the Matrix universe and he delved into television with the Syfy original series Alphas that starred David Strathairn.
Hasbro has believed that ROM could be a tentpole film for the company. The character has had a resurgence of late with a new line of comics coming from IDW Publishing.
Ready Player One premieres tonight in Hollywood and will be released wide on Wednesday for the Easter holiday weekend.
Source: Deadline