'Seven Stages to Achieve Eternal Bliss': Taika Waititi is a Cult Leader in New Trailer
Seven Stages to Achieve Eternal Bliss is a new comedy starring Kate Micucci and Sam Huntington about a couple who rent an apartment where people in a cult come to commit suicide. The leader of said cult is played by Taika Waititi, and many familiar faces play members. The film debuted in 2018 at the Tribeca Film Festival during their Midnight offerings. Check out the insane trailer below:
In this unorthodox black comedy, a young couple's Los Angeles home turns into a suicide magnet. After a cult leader committed suicide in the bathtub, the house compels many of his disciples to break-in in order to follow his lead. Unable to move out and pay a higher rent, they are forced to confront the existentialist chaos.
This looks all sorts of insane and also frankly hilarious. I can also very much see why it has taken this film so long to find a release. My guess is someone saw that Taika Waititi is in it and thanks to Jojo Rabbit and this years awards success for that film, we all now get to see it.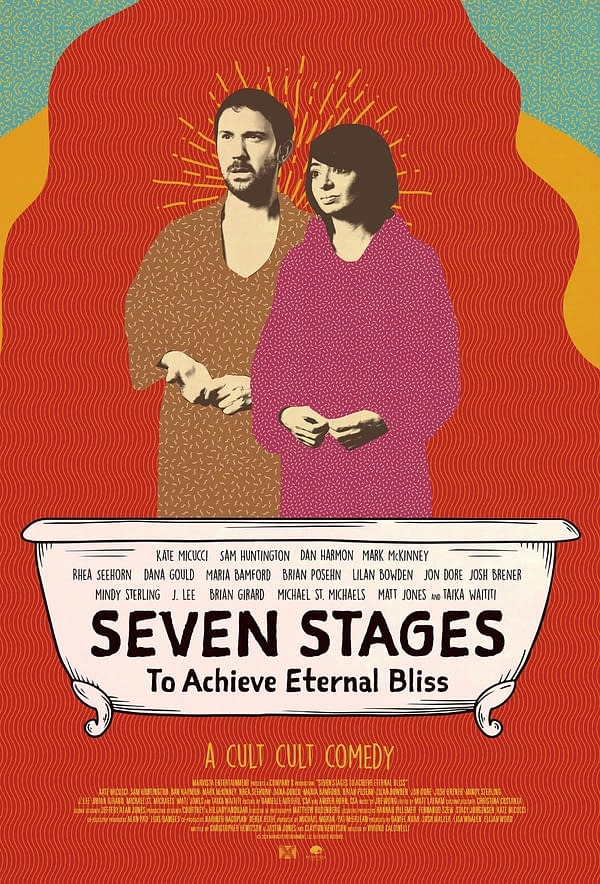 Seven Stages to Achieve Eternal Bliss, directed by Vivieno Caldinelli and starring Kate Micucci, Sam Huntington, Taika Waititi, Dana Gould, Rhea Seehorn, Dan Harmon, Mark McKinney, Maria Bamford, Brian Posehn, Lilian Bowden, Matt Jones, and many more opens this month.