I've been racking my brain since the announcement that Sigourney Weaver will be paying the villain in Marvel's The Defenders on Netflix. Who is she going to be playing? There isn't an obvious choice, especially when you put what we know together. The teaser they released back around SDCC gave us one clue.
https://youtu.be/wBZtM8q2Z1g
Or maybe two. We got the voice over by Scott Glenn / Stick and the large hand about to crush the logo. Most people have taken this to mean that The Hand will be the villains that pull the Defenders together. That makes a lot of sense with where Marvel's Daredevil season 2 left off and just the sheer force of the ninja clan. But if they are the villains, that narrows down the number of baddies she could be playing.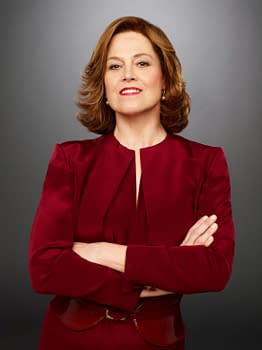 With all of the flack around Tilda Swinton playing the Ancient One, I can't see Marvel casting Weaver in place of an Asian character. And female characters tied to the Hand are few and far between… and most are younger. Elodie Yung already plays Elektra and where I think she would be an interesting Typhoid Mary, I think they'd want to go with someone more physical in the role.
There has been some rumor that Mephisto would be the bad guy for the series, which I think Weaver could totally pull off… but I don't think the Daredevil, Luke Cage, Jessica Jones and Iron Fist have the combined might to take on Marvel's version of the devil.
But what if they went a different way and did a variation on the Shadowland story where Daredevil is possessed by the Beast of the Hand and made to take over Hell's Kitchen. Claire Temple would notice the difference in him and bring in her friends to help / stop him. In the comics it's Iron Fist that frees Daredevil from  the possession… then Daredevil kills himself to prevent being possessed again only to be resurrected by Elektra. Not sure the series would go through all of that….
How would Weaver play in this scenario? What if she is the physical manifestation of the Beast of the Hand? Why would it take her form? What if it's the form of someone very important to Matt Murdock? Someone we haven't met yet but we know is important… his mother, Sister Maggie. This becomes a very emotional journey for Matt and having an actress of Weaver's caliber makes a lot of sense.
This is just my theory… either I'm really wrong or Jeph Loeb should put me in the writer's room.
Enjoyed this article? Share it!