Silent Night, Deadly Night 2 Blu-ray Details Revealed by Scream Factory
Silent Night, Deadly Night 2 is coming home for the holidays this year. Scream Factory is going all out for the release, just like last year with the release of Silent Night, Deadly Night. there will be two versions of this release available: the regular edition release of the film, featuring a new 2K scan, new commentaries, new interviews with the cast, a new locations special, and more. The other edition includes the disc and a Ricky NECA action figure, complete with Santa suit and all. This is ultra-limited, so If you want that you better go order it now. Both also come with a limited edition print if you order through Scream Factory themselves.
Check out all of the details below, and place your order here!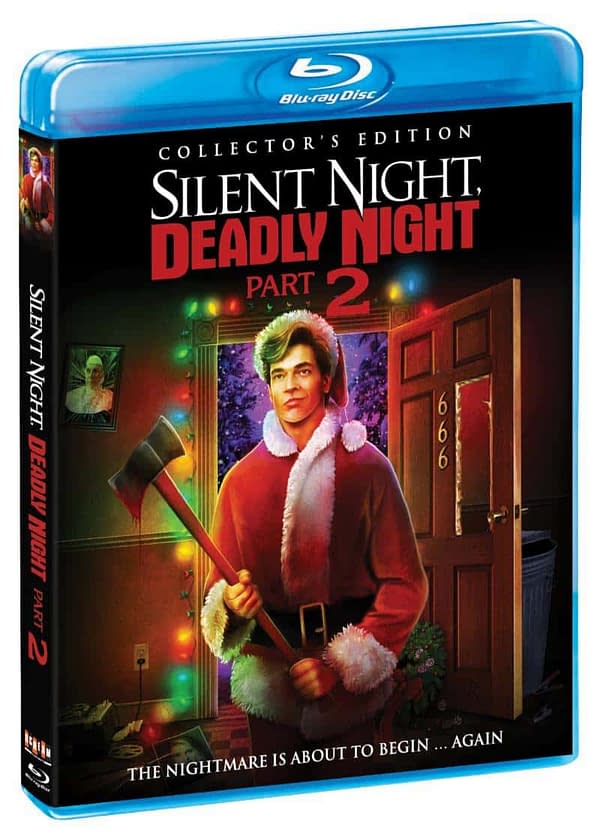 The nightmare is about to begin…again. "Santa" is back in the sequel to the infamous 1984 cult classic and horror holiday favorite. Silent Night, Deadly Night Part 2 comes to Blu-ray for the first time, lavishly presented in a Collector's Edition set, on December 11, 2018 from Scream Factory. This release features a new 2K scan of an archival theatrical print, and is packed with bonus features, including new featurettes, interviews and commentaries with cast and crew.

Scream Factory will also offer a limited edition set that includes a poster, slipcover and the exclusive Ricky/Killer Santa action figure from NECA, available for pre-order on

shoutfactory.com

. This 8-inch clothed Ricky Chapman action figure is dressed in a fabric Santa suit with removable sculpted hat. The figure is fully poseable and comes with gun and axe accessories in window box packaging.

It's Garbage Day! Ricky is being released from a mental hospital. He takes with him the terrifying memory of his brother Billy's death and the memory of Mother Superior who brought about his brother's demise. For Ricky, starting a new life means avenging his brother's death, which sets him on a blind journey of relentless revenge, leading ultimately to Mother Superior. And when he gets to her, not even her faith will be enough to stop Ricky as he follows in the family tradition of Christmas carnage.
Bonus Features:
NEW 2K Scan ofan archival theatrical print
NEW Audio Commentary with director Lee Harry, actors Eric Freeman and James Newman
NEWSlay Bells Ring Again: The Story of Silent Night, Deadly Night 2 – featuring interviews with co-writer/director Lee Harry, actors Eric Freeman, James Newman, Elizabeth Kaitan, Darrel Guilbeau, Kenny McCabe and makeup effects artist Christopher Biggs
NEW Garbage Days Are Here Again – a look at the film's locations
NEW Ricky Today – a short film featuring a 2018 interview with Ricky Chapman/Caldwell
NEW I Don't Sleep – an extended interview with makeup effects artist Christopher Biggs
Audio Commentary by co-writer/director Lee Harry, co-writer Joseph H Earle and actor James Newman
Theatrical Trailer
STANDARD OFFER
– Receive the Collector's Edition Blu-ray with slipcover
– Receive a limited-edition 18" x 24" rolled poster of the newly-designed art from artist Joel Robinson
DELUXE OFFER (Limited to 2,000 orders only – pictured below)
– Receive the Collector's Edition Blu-ray with slipcover
– Receive a limited-edition 18" x 24" rolled poster of the newly-designed art from artist Joel Robinson
– Receive an exclusive, limited edition 8" tall Ricky Chapman figure by NECA
– Free Shipping