The numbers are starting to come in for Solo: A Star Wars Story, and while they aren't world-ending, they are far from bad. According to Variety the second Star Wars anthology movie pulled in a respectable $14.1 million on Thursday night preview screenings and is well on its way to pulling in $130–$150 million domestically for its opening weekend.
The preview number exceeds the previous $13.2 million record held by "Pirates of the Caribbean: At World's End" in 2007. It's slightly behind the $14.5 millions from "Thor: Ragnarok" which finished the three-day weekend with $122.7 million in November.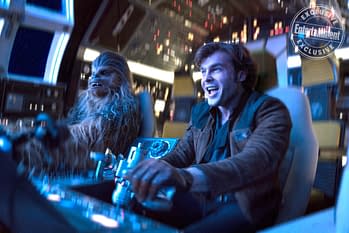 These aren't record-shattering numbers, which means plenty of people are going to claim that this means Star Wars is dying and the end is near — but that isn't the case. This is a packed month as far as movies go. We're only five weeks out from Avengers: Infinity War, on track to move to third place this weekend, and Deadpool 2 is in its second weekend and looking to take the number two spot. Going out to the movies is expensive for families, and if they just went a month ago for Infinity War they might need a little more time before they can afford to go again. Whether or not Solo: A Star Wars Story has any staying power at the box office will be the real test of franchise fatigue.
And even if people are getting tired of Star Wars movies, we have a year and a half until the next one comes out. There is plenty of time for people to miss it a little, the first teasers to drop, and the hype cycle to start all over again.
Summary: During an adventure into a dark criminal underworld, Han Solo meets his future copilot Chewbacca and encounters Lando Calrissian years before joining the Rebellion.
Solo: A Star Wars Story, directed by Ron Howard, stars Alden Ehrenreich, Emilia Clarke, Donald Glover, Woody Harrelson, and Thandie Newton. It's out now.
Enjoyed this article? Share it!