[rwp-review-recap id="0"]
Star Wars was a Western. Most space operas movies coming out of the US are. But Solo is the most Westerny it has ever been. It reeks of frontier pulp fiction, post-Civil War — pre-Civil War in some places — but this is a cowboy movie where you can't see the wheels or hooves.
It says right at the beginning, a long time ago… and it is, 150 years or so.
It's this territory that the TV series Firefly and spinoff movie Serenity exploited, with trademark Joss Whedon snark and bite, creating a more literal Western in space, with the subtext squeezing through porous holes and becoming text. There was much that they stole lock stock from Star Wars, well if Solo is a heist movie, much of that is stealing back the Western moxie for the Star Wars Universe from the people who stole it from them in the first place.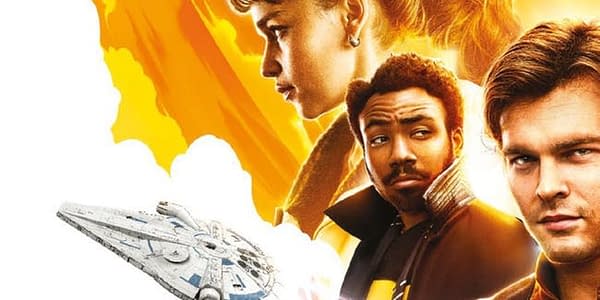 There are army recruitment drives for the Empire, there are mines, there are mountains, there are pistols. They even have a train job, with carriages to be uncoupled, bridges to be blown, and both the guards and the natives to take account of. Their vehicles may fly, but I swear you can hear the hooves. It's a Western with a sci-fi skin laid over it.
But what a skin, all the familiars from cantinas to exotic singers and dancers, blasters, Empire robots, ships and walkers, and lots of people in helmets. And by rejecting lightsabers, it loses the influence of the samurai tales and the knights of the round table that also informed Star Wars and doubles down on the frontier values instead. And, for this film at least, it's all the better for it.
Solo is a tale of filling in the gaps. It's a movie of historical fiction in that we know what's coming — this does the job of excavating the details. Single lines from the first Star Wars movie now become entire plot lines. This is where established relationships are… established. Where things are said for the first time. And are held in the air, the audience filling in the gap to the character's future, but the audience's distant past.
What Solo does give the Star Wars franchise, however, is a change of pace. This isn't about the fate of the galaxy. This isn't about a hero trying to topple the overarching authority. It's about surviving to the next day, maybe slightly up on where you were before. And that's the film as a whole too. It rarely goes for melodrama. It keeps the stakes low; no one tries to blow anyone up with a planet. Instead, we get a really fun film.,
So who stands out? Phoebe Waller-Bridge's L3-37 brings a rabble-rousing appeal and tackles one of the major issues I've always had with the way Star Wars portrays droids. Donald Glover's Lando, a man with a room full of capes in the Millenium Falcon, one for every scene, swings them around with panache, swagger, and loving being here more than anyone. Paul Bettany does the British baddie beautifully, far more fun on screen than he's ever been as Vision; Emilia Clarke gives us two very different lifestyles that make you question which she is pretending to be; Woody Harrelson shows us why he should have been cast as Yondu; Thandie Newton — I almost ran over on my bicycle on Tuesday (sorry, Thandie) — but she plays a remarkably dedicated copy with conviction; and I even warmed to Jon Favreau's monkey-like Rio Durant. But Alden Ehrenreich really carries the film through as Han. He is exuberant, annoying, lucky, and frankly, he sparkles. The grifter with a limit, and it's that limit that brings him back and keeps us on his side. Even as we know where he's going…
You know what? The only thing that lets Solo down is a little too much worthiness. Suddenly saving the innocents is a shift that's harder to completely hold in your head. But you know what? That always happened with the anti-hero in those Western films and dime novels too. Apparently, you can't take the sky from him.
And I know this is a Star Wars Story, the second film to get that tag, but while Rogue One had no sequel possible, Solo does. There are still stories to excavate.
So SOLO TOO, please. SOLOO.
And no, because people always ask, no post-credits scene. This is a Star Wars movie; they don't do that…
This movie was watched in general performance at Putney Odeon, London, with a paid ticket.
[rwp-review-ratings id="0"]
[rwp-review-form id="0"]
Enjoyed this article? Share it!