Sorry To Bother You is the Movie of Our Time
Boots Riley's 2018 directorial debut Sorry To Bother You, a surreal comedy-drama about a call-center operator named Cassius Green (Lakeith Stanfield), doesn't seem like it should be anything more than your typical indie film. And yet, with its revolutionary message, couched in surrealism and racial, class, and gender politics, somehow it manages to catch the zeitgeist of the late 2010s and 2020 perhaps better than any other film.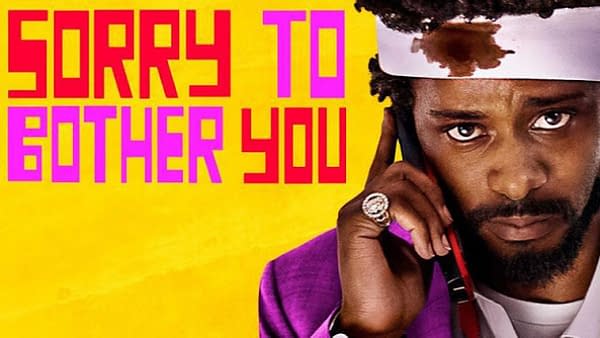 In the film, Cassius (aka "Cash"– get it? Cash is Green?) gets a job at a telemarketing firm. Four months behind on his rent, and with his uncle/landlord (Terry Crews) about to lose the house, he'll need a miracle to dig his way out, despite the support of his girlfriend Detroit (Tessa Thompson).
But a miracle he does find when his cubicle neighbor (Danny Glover) gives him a key piece of advice: "Use your white voice." Suddenly, Cassius starts channeling the voice of David Cross on the phone and is selling left and right. This attracts the notice of management, who start eyeing him for a promotion to the fabled upstairs "Power Callers."
Unfortunately, Cash's co-workers aren't seeing the same success, and under the lead of Squeeze (Steven Yuen), they start striking to form a union for better wages and benefits. Meanwhile, Detroit is pursuing her art by day but also joining up with a revolutionary protest group The Left Eyes by night. Their target is the parent company of both the call center and multiple other companies around the Bay Area owned by tech billionaire Steve Lift (Armie Hammer). Lift's newest venture seems to be attracting desperate workers, signing them to lifetime contracts in return for food and housing. It's very clearly slave labor, but no one is willing to call it that.
The Satire is Not Far From the Truth
This surreal dystopia in Sorry To Bother You is, unfortunately, not too far off from the real problems facing so many areas in America today, but very specifically the Bay Area and Oakland where the film is set. The film crosses geographic and temporal space with several other films with similar themes, like Blindspotting and The Last Black Man in San Francisco. There's also a bit of crossover with Ryan Coogler's Fruitvale Station and Black Panther. Still, the latter is mostly due to Coogler being able to shoehorn his hometown into his MCU masterpiece properly.
While Lakeith Stansfield deserves top billing here for his spectacular work in this movie (and David Cross as his eerily creepy "white voice"), the best performance here is from Tessa Thompson. She is always a delight, but especially so in this film because she and her character are one. There is no space between performer and performance. It is just that seamless.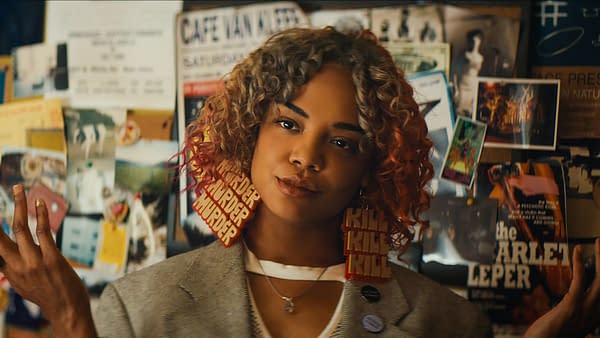 And Detroit's uncompromising nature gives us a perfect foil to Cash as he goes down the path of selling out. And while Cash worries about what happens when the sun blows up and what's left, what legacy we've left, Detroit calmly keeps making her art and marching to her own beat. And best of all, she didn't need yuppie bourgie Cash with his chic apartment and Maserati; she liked him just fine living in his uncle's garage and driving a rust bucket. Her art display scene is also one of the most intense and beautiful pieces in the film and just reinforces not only how much integrity Detroit has, but what an amazing actor Thompson is.
Divisive, But Everything's Divisive These Days
Sorry To Bother You is certainly not everyone's cup of tea. It is one of the most divisive films of the past few years as well. Many (white people) will simply never be able to get past the opening twenty minutes because they have no interest in a film that so radically deconstructs race and class. Others may be turned off by a third act turn and ending which are simply a bridge too far for many people. Speaking for myself, I'm not one to usually talk to the movie screen in a theater, but my first viewing at a certain point I literally bust out with a loud and involuntary "What the f—?!?!?" So it's understandable people might check out at that point. And finally, perhaps it is because it is so divisive that makes it the film for our time. Everything is divisive these days. In other words, Boots Riley nailed it.
But while some have a problem with the surreal elements of the film, it is what transforms this into the masterpiece that best reflects our time. Blindspotting, Fruitvale Station, and Last Black Man in San Francisco are far too literal and so have less impact as they only swallow one or two issues (usually the intersection of race and poverty/gentrification). But Riley, with a drug-infused third act that includes a Claymation segment (credited to "Michel Dongry"– nice shout-out to the film's visual inspiration from French director Michel Gondry), decides to take on the entire enchilada of the problems that late-stage capitalism presents.

And perhaps what makes it the best film of this time is that it seems to go out of its way to specifically not be about this time. Never once does the film mention Trump. It understands that the problems we face go more profound than any one politician. Indeed, a late in the third act piece of dialogue brings into question precisely if the "normal" behaviors of calling our elected officials and voting will be enough to fix what ails us. What makes this film divisive is it is challenging. We will be challenged to do more than just our typical behaviors.
And then there's the music. Riley, formerly of Bay Area hip hop group The Coup, makes sure the film is bathed in a perfect musical atmosphere. There are also some specific moments late in the movie that deconstructs and indict the commodification of rap music for white audiences and precisely what they demand that is one of the best moments of the film.
It's rare that a film ever surprises me, much less flabbergasts me. This movie is still astounding and demands to be seen just so you can discuss it. Love it or hate it; you will have a strong reaction to this movie. And perhaps there's nothing better than can be said about a true piece of art that will stand the test of time and, hopefully, be looked back upon as prophetic and timely. Sorry To Bother You is that movie for our times.