Splash Mountain is getting a makeover. Announced today on the Disney Parks Blog, the popular log ride at both Disneyland and Walt Disney World will change theming to Princess and the Frog. This apparently has been in the works for some time, but is now official. Splash Mountain as it stands right now features characters and songs from the long out of print Disney film The Song of the South, which the company has buried for years because of the racial stereotypes it contains. No timetable is set currently for the transition, but it will be complete in the next couple years.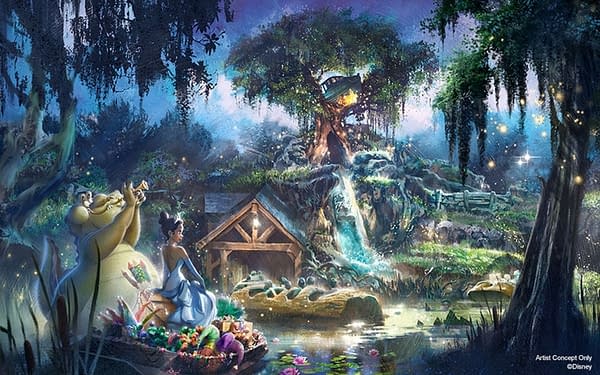 Splash Mountain Makeover A Good Idea, But Unpopular One
"Today we are thrilled to share a first glimpse of a project Imagineers have been working on since last year. Splash Mountain – at both Disneyland park in California and Magic Kingdom park in Florida – will soon be completely reimagined. The theme is inspired by an all-time favorite animated Disney film, "The Princess and the Frog." We pick up this story after the final kiss, and join Princess Tiana and Louis on a musical adventure – featuring some of the powerful music from the film – as they prepare for their first-ever Mardi Gras performance.
Tiana is a modern, courageous, and empowered woman, who pursues her dreams and never loses sight of what's really important. It's a great story with a strong lead character, set against the backdrop of New Orleans and the Louisiana bayou. In 1966, Walt himself opened New Orleans Square when it became the first new "land" added to Disneyland park, so it feels natural to link the story and the incredible music of "The Princess and the Frog" to our parks."
This is a great choice for a makeover for this ride, though it won't be a popular one. Disney Park-goers fear change, especially to much-loved attrcations like Splash Mountain. The time has come though. The Imagineers will surely make this new theming special and it will remain a popular ride regardless.
Enjoyed this article? Share it!