Pacific Rim: Uprising came and went without people making that much of a fuss. It got lost in the fray with Black Panther and didn't stand much of a chance against the massive Marvel movie juggernaut. There was one thing that the did get people talking and that was a character death. Director Steven S. DeKnight took to Twitter to talk about the character death in depth. We've taken the long twitter chain and made it easier to read but to get into it we need a spoiler warning. If you don't want to know the character death look away now. .
.
.
.
.
.
.
.
.
.
.
.
.
.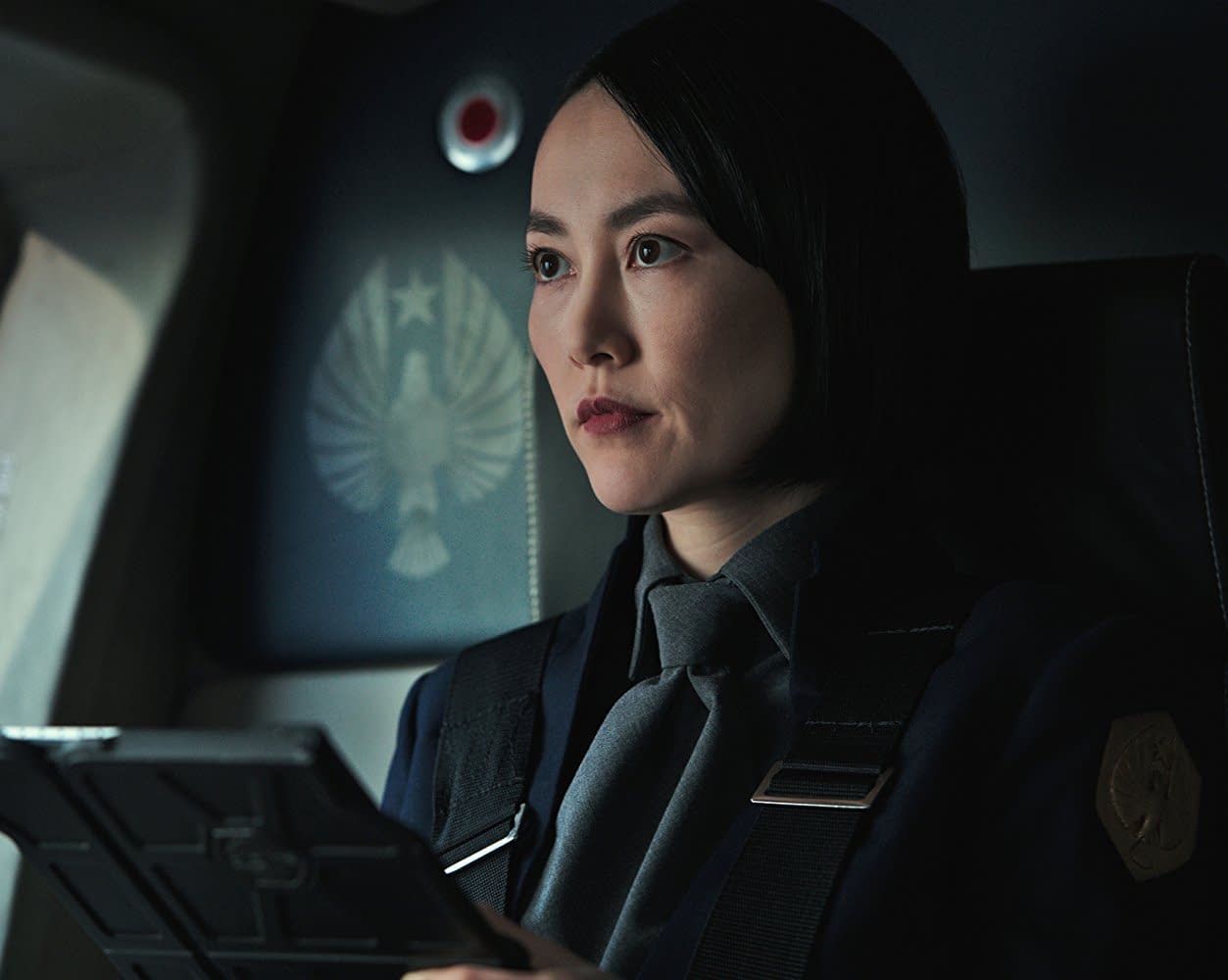 Not long into the movie and with very little screen time we see Mako Mori, the heroine from the first movie, die in a helicopter crash. The scene is one of the most classic examples of a woman being "fridged" or killed for the sake of a male character. Mako was such a feminist character in the first movie to the point that they made a whole new version of the Bechdel test named after the character. It didn't sit right with fans that Mako went out the way she did and a fan asked DeKnight about it. He went on a long twitter thread talking about the decision to kill her off.
I'm gong to jump way out of order and tackle one of the toughest issues here head on. This may be long and rambling, so bear with me. To start with, I never take the death of a character lightly. No matter what the gender, race, sexual orientation, etc, killing a main character must be approached with careful consideration. In regards to Mako, the concept of how her story unfolds was purely my suggestion. I own that completely. To me, at the end of the day, all other concerns must be set aside in service of the story. For example, at one point Mako wasn't even in the movie. Instead Herc was the one in the helicopter, playing the Mako role. And his fate was exactly the same.
So it sounds like it was always in the cards for someone to die in that helicopter crash but DeKnight went on to say that he wasn't happy with how the scene ended up turning out on screen.
Now that's not to say I'm happy with the way everything turned out. The original concept was much more involved and emotional. There were more scenes with Mako and much, much more was made of her death. For example, there was a piece on the catwalk with Jake where where Mako explains what happened to Raleigh and why she couldn't pilot anymore. That's the reason you don't see her in a Jaeger, but this was cut out of the movie so it's not clear. Originally there were more emotional scenes post Sydney that were also cut/replaced, particularly one between Amara and Jake on the catwalk and one between Nate and Jake in the corridor. Her death didn't change Jake's direction — it only reinforced his feeling that he didn't belong in the program. Originally, it was Nate that got him back on track. One of the biggest cuts we had to make was a massive funeral scene with a Jaeger honor guard.
DeKnight went on to talk about a few alternate scenes that would have given her death more meaning and even talked about an alternate take where Raleigh Beckett was still around (and the main character) and brings her out of a coma.
It gave Mako's passing the weight that it deserved. Never shot due to budget/time restrictions. The most painful thing that never made it before the camera was something from the original outline. In that, Mako survived the initial crash but was in a coma. Raleigh (he was still the lead at the time) drifts with her to go into her mind to pull her out of the coma. It was during this sequence that he saw the "Kaiju head" clue. This was regrettably cut because of the sentiment that coma was too depressing. Finally, PRU was always intended to be the second part of a trilogy. Due to the nature of the PR universe, this was not going to be the end of Mako Mori. I can't say more about that yet, but a concept revolving around Mako was a huge part of the third movie. Her storyline was far from complete. Ultimately there are many, many moving parts to a decision like this. And even more parts that I'm not at liberty to discuss. But just know none of it was taken lightly. Please feel free to ask follow up questions. I'll answer as best I can.
While it sounds like the death wasn't supposed to be a fridging and there was supposed to be more to the character that didn't stop the fact that the death came off extremely pointless given how important the character became to women who love science fiction. DeKnight didn't disagree with the fan and that he should have done better.
!!!SPOILER!!! I can't disagree with that. In the final product, I don't feel it was given the weight that it deserved, regardless of the reasons. And at the end of the day, the buck stops with me. https://t.co/oRO6dXi4dO

— Steven DeKnight (@stevendeknight) May 1, 2018
What ended up on screen is what we got and it's a shame that a character like Mako got such a terrible send off. Fans of Pacific Rim wanted more movies but not at the expense of this character. It's probably one of the clearest examples of a studio making a movie and completely missing what made the first one so great.
Summary: Jake Pentecost, son of Stacker Pentecost, reunites with Mako Mori to lead a new generation of Jaeger pilots, including rival Lambert and 15-year-old hacker Amara, against a new Kaiju threat.
Pacific Rim Uprising, directed by Steven S. DeKnight, stars John Boyega, Tian Jing, Scott Eastwood, Adria Arjona, Charlie Day, and Burn Gorman. It's out now.
Enjoyed this article? Share it!