The Strangers: Prey at Night Gets Second, Much Better Trailer
The Strangers: Prey at Night is the upcoming pseudo-sequel to the 2008 horror hit The Strangers. Avrion Pictures today has released a new trailer for the March 9th-debuting film, which you can check out below:
A family's road trip takes a dangerous turn when they arrive at a secluded mobile home park to stay with some relatives and find it mysteriously deserted. Under the cover of darkness, three masked psychopaths pay them a visit to test the family's every limit as they struggle to survive. Johannes Roberts directs this horror film inspired by the 2008 smash hit THE STRANGERS, starring Christina Hendricks, Martin Henderson, Bailee Madison and Lewis Pullman.
That's more like it. When the teaser hit, it felt more like this one was going to rely on jump-scares and gore than the original. This trailer gives off a bit more of a tense, chaotic vibe that a "home invasion" thriller should have. It also looks gorgeous; some of the set pieces look to be outside of the house they have chosen as the home of their carnage. The pool scene and such should make for some intense viewings with an audience. Coming off such a strong year for horror in 2017, it will be nice for a film like this to continue the hot streak and really give us horror kids something to sink our teeth into.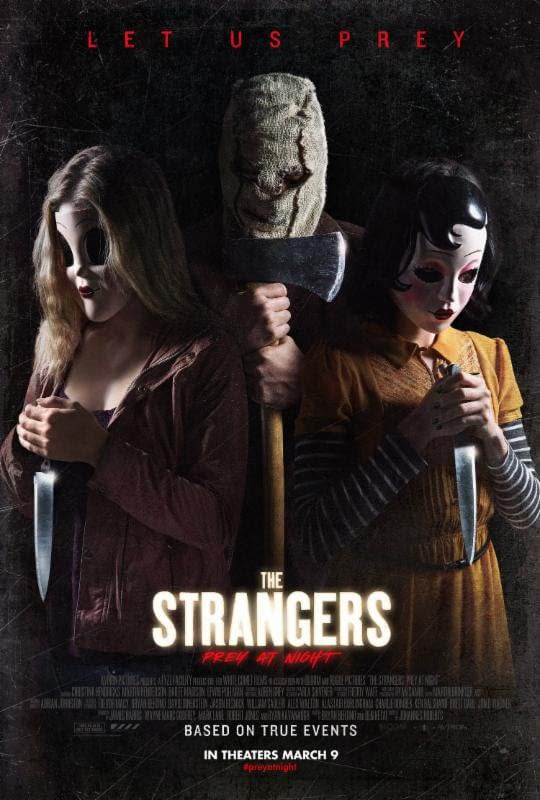 I have pretty high expectations for this one. It is hard to believe that the original hit theaters a decade ago. It is just as affecting as it was then, and hopefully this film can capture some of that. Look for the Tiffany hit "I Think We're Alone Now" to see a big resurgence, as well. Even just watching the trailer I find myself bopping along to it as people are murdered in front of me.
Strangers: Prey at Night hits theaters on March 9th.