Molly Parker on Returning for 'Deadwood: The Movie', Character Chemistry
We are SO CLOSE to the premiere of HBO's much-longed for continuation of David Milch-created Shakespearean Western series Deadwood by way of Deadwood: The Movie. 13 years ago, the series was unceremoniously cancelled before getting to end it's tale of the South Dakota mining town denizens. It felt, to fans and cast alike, that the camp candle had been snuffed far too soon for the masterclass of a show in 2006, and it's taken this long for a proper sendoff.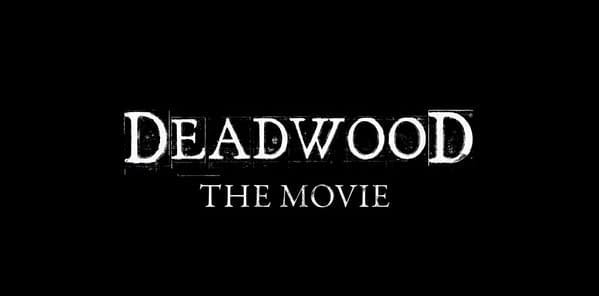 Rumors swirled for awhile that perhaps HBO and Milch would find common ground and do a 2-hour mini series to bring the series closure, but that didn't really happen until a decade later when a film was greenlit. The majority of the remaining cast (minus those we've sadly lost along the way) returned to Deadwood, and the release of the movie is just around the corner (Friday May 31st!).
Needless to say, as a fan of the series during it's original run and one of the countless parties excited for the film, getting the chance to interview a handful of the principal players- like Molly Parker (who played Alma Garrett-Ellsworth), Robin Weigert (who played Calamity Jane), Brad Dourif (who played Doc Cochrane), and W. Earl Brown (who played Dan Dority)- was unreal in the best of ways. ***
Mab: So, 13 years going from the series end to finally having a movie. What's that been like?
Molly: Yeah, it's been a long time. I was pregnant with my son during the last season of Deadwood, so I have concrete evidence of the passing of time. Obviously there were lots of rumors, and it tried to get made so many times, that this was really perfect, for us. I don't know so much about the audience, but it felt great to be able to go back after so much time. You sort of get to visit your past in a way, I've never had the opportunity to do that, to go back to a piece of work and inhabit those characters, witnessing other people inhabiting their characters in the same place, it was really a bit of a headtrip. It made me realize that life is so so short.
Mab: Stepping back into the bustle, must've been an experience for you, going from space suits on Netflix's Lost In Space [which is GREAT and returning for a second season!], what was that like?
Molly: I was shooting them both at the same time. Shooting in Vancouver for Lost in Space, and then doing Deadwood on the weekends, it was intense. Both shows require intricate costumes, and in their own way, really uncomfortable and physically limiting. [she laughs]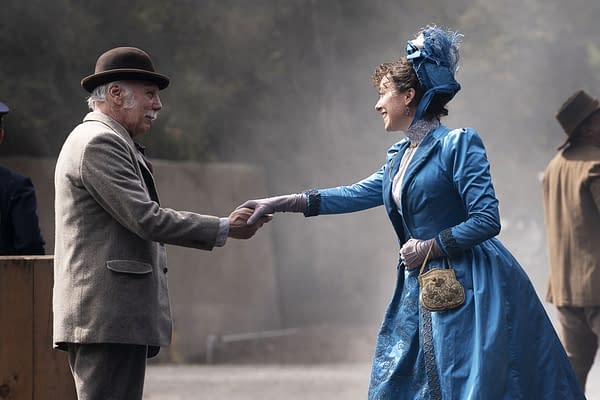 That's something actually, with Alma and Deadwood, that it was such an immediate key into the character and the time. It's not just the corset, but with her wealth and her clear love of clothes; there were layers and layers of petticoats. What I was reminded of was women were…there was an externalized repression that was put on top of their societal repression of being in those clothes. You can't breathe very well, you wouldn't be able to become emotional, you would faint. I had sort of forgotten about that, until I put the clothes on again. It was why so many of the wealthy women were prescribed laudanum, for the pain, for the management of just being able to live in those clothes.
Mab: That was always something really fascinating about watching how you played Alma, and always sort of, fighting through that restrictive nature of both the garments and where she found herself in the town. You always managed to find her strength and bring it out, no matter what the situation was.
Molly: The thing that I loved about doing that show, that she was a character who was reborn in this town. It's the place where she found herself. She left behind society, and she was empowered financially by having the richest claim, but she had this weakness, she was an addict, but it was how she had survived her life before coming to Deadwood. And when she was given the opportunity and encouragement to become "sober", she for the first time in her life found out who she was. So her coming back to Deadwood, she'd been back east raising Sophia, she comes back to see him ["him" we assume is Timothy Olyphant's character Marshall Seth Bullock]…she comes back to her birth place, in a big way, where she became who she is.
Mab: I had spoken to Robin about, in her words, a special moment between Jane and Alma, which she says is probably her favorite moment on the show as a person, not just as the character. I wanted to ask you about that, if you recall what it was like for you in that scene.
Molly: [after a pause, I can almost hear the smile in her voice] I love the women in Deadwood. Being able to come back all these years later, all of them are so different and have gone through all kinds of different journeys in that moment. But there is this opportunity the town provided them, to be seen as beyond gender identity stuff, beyond class and education. That's the relationship between Alma and Calamity Jane, that you could be so different, and yet there is something so powerful about being KNOWN, about having people who knew you at the beginning of who you became. So it was all of that, and it was all mixed in together. Part of it is the generosity of David Milch, his understanding of human nature, those moments between these characters were where we were allowed to breathe. All of these people are screw ups, all of them, and can't really get anything together on their own. But as a community, they can make something bigger and more beautiful than just themselves. Which goes to the main theme of what the show was always about- how we create society. That's a long winded answer to that, but I adore Robin, so we were full of love for each other.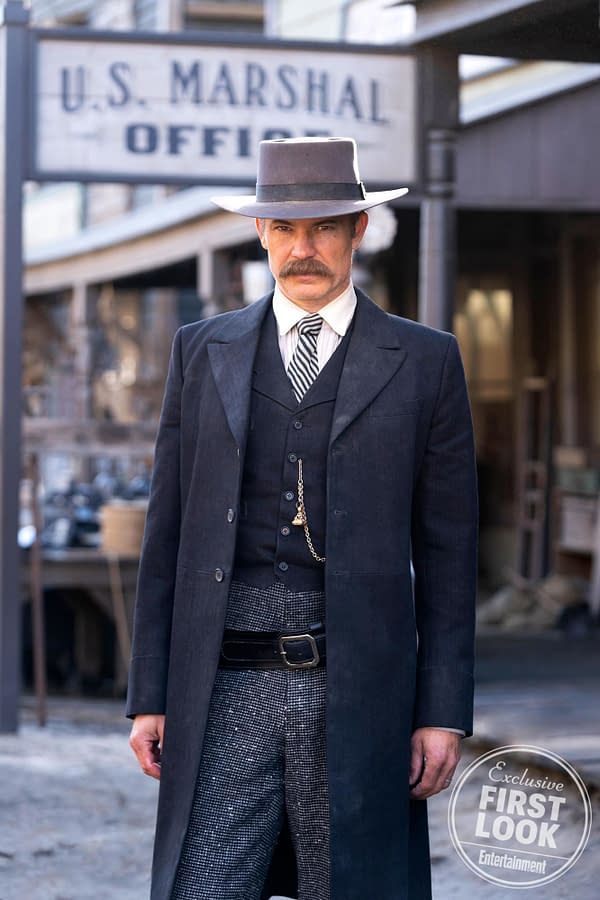 Mab: How about facing Timothy Olyphant's character, Seth Bullock again after so long? Part of what made the character's relationship so amazing to watch was your natural chemistry together.
Molly: I hadn't seen Tim in years, I think for both of us- we were just talking about it the other day- those two characters just loved each other. They were so in love. Tim said to me after we got to see it on the big screen, "When I saw her come down the stairs, I just remembered how much he loved her," and it brought tears to my eyes. It was sort of sad, but perfectly impossible love.
Mab: It really felt that way, in this film, being reminded of them. And now they're more…adult, I guess? But seeing them see each other again in that moment was pretty awesome for someone who was such a big fan of the show.
Molly: Oh good, I'm so glad. Even though all this time has passed, we find these characters in a way, still grappling with their core wounds. In some ways they've all moved on, but the things that shape us are always there, and always playing with us. I think one of the things that David did so well is he wrote temporally, that these people have moved ahead, but they're still wounded and battling and having to contend with the same joys and difficulties are. But they, and us as people, keep circling back to the essence of what created us.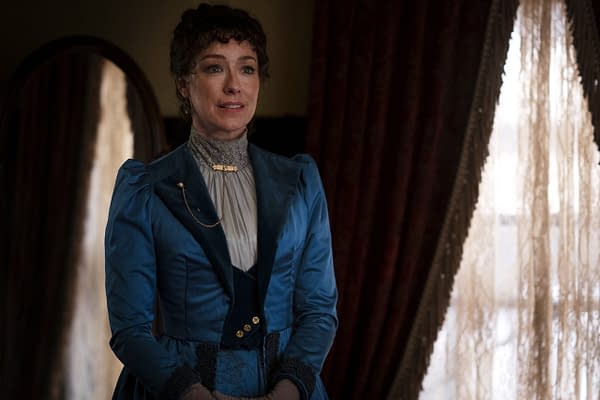 Mab: Are yo happy with where we're left with Alma in this film? Are you happy, as the person who brought the character on screen, do you agree with where she is at this point in her life and what she does in the film?
Molly: I am happy. What I like about it, we leave her in a place in contemplation of what the next part of her life is going to be. She's done this thing, and she's done it as a member of the community. And there is some closure, I think, of her relationship with Bullock, and we leave her in a place of possibility, which has always been what Deadwood has offered Alma. And you know, if in another 13 years they want…[we both laugh] to check these people out again, I would be consider it. But my sense is, that this is it, this is where we want to leave it.
Mab: Thank you so much Molly, for this and all your work. Can't wait everyone to see this film, and for Lost in Space season 2!
Molly: Oh my pleasure, and yeah! It's coming, we shot it, it's coming.
***
Thank you again to HBO for facilitating, and to Molly for her time. You can catch all three seasons of Deadwood on HBO NOW ahead of Deadwood: The Movie hitting the cable channel on Friday May 31st.