[Editor's Note: This Last Jedi-centric piece comes to us from Bleeding Cool correspondent Brandon Wainerdi from SXSW 2018.]
I am currently writing this in a Starbucks in Georgetown, Texas.
Only 30 miles outside of Austin, the pressure kept building in my head as I sped back home, so much so that I had to finally pull off the highway to write down what I've learned about the future of Star Wars — and what fans can expect from today's digital release of Star Wars: The Last Jedi.
It's been a long day, which effectively began last night at midnight, a spur-of-the-moment trip back down to Austin (after already spending the weekend there and returning to my Dallas home). Because, when I initially received an invite to a second, exclusive panel celebrating The Last Jedi at the Twitter House, I knew I had to go back.
The three-hour trip, combined with a three-hour crash on my friend's couch and then a further three hours in line in the surprisingly cold Austin morning was inherently risky — I had been burned before by a supposed (canceled) Gareth Edwards panel at SXSW the year before. And I didn't really have any confirmation that the panel of star Mark Hamill, director Rian Johnson, and producer Ram Bergman would actually occur.
But I showed up anyway, clutching my new copy of Jason Fry's new The Last Jedi novelization and waiting out the rest of the early morning at the very front of the line.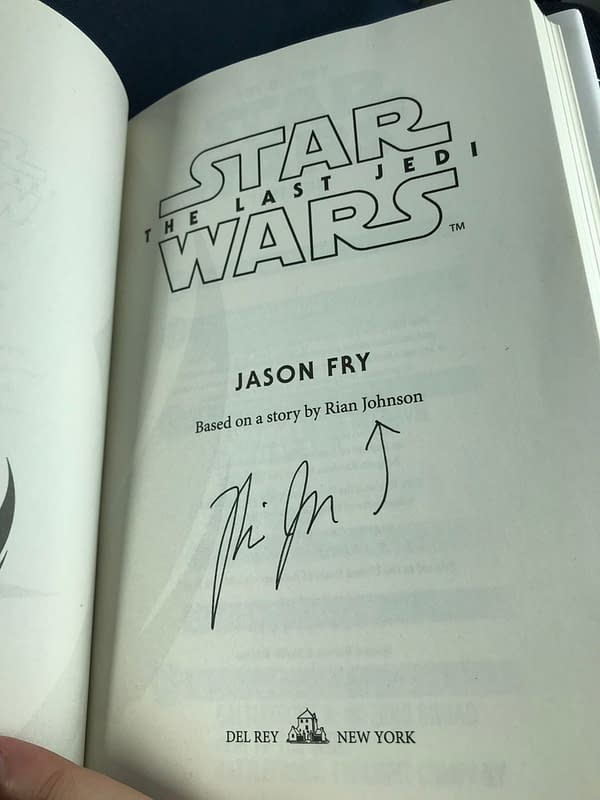 By the time the doors opened, however, I knew I had made the right choice. As I entered the Twitter House, three black SUVs had pulled up on the sidewalk behind me, their engines quietly running, heralding the arrival of the men of the hour. And, as I nervously shuffled into my front row seat, my bubble of nervousness finally popped, punctuated by Mark, Rian, and Ram jumping on the stage.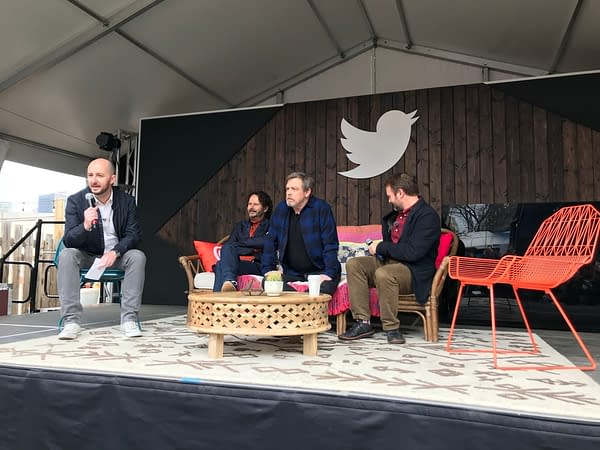 I was in almost disbelief at how exclusive and accessible this panel was (with probably fewer than 50 people in attendance), a far cry from the enormous, packed auditorium where I had last seen Hamill speak, during Fan Expo Dallas.
We didn't learn much — at least no stories that I hadn't heard before. Mark is full of tall tales and excitable anecdotes, from recounting Carrie Fisher's emoji-filled tweets on their race to 1 million followers and his excitement over one of the greatest entrances in movie history: his hood removal at the end of The Force Awakens ("Everyone talks about me for two hours and they do all the heavy lifting and then I turn around and they go, 'Oh wow!'").
The biggest downside of the panel was its length: clocking in at under 30 minutes, the first 10 were filled with the moderator prodding the group about their experiences using the Twitter app.
Kaitlyn has already done an awesome write-up of the full documentary, but there were some definite nuggets that emerged during the tail-end of the (then Twitter-less) discussion:
Most importantly: there is a John-Williams-score-only cut of the movie. Rian announced it to the crowd, spilling that it is completely silent (no dialogue or sound effects) besides the crescendoing notes of the Maestro's compositions. To watch this version, fans need to download the Disney-owned Movies Anywhere app and simply select the "Score Only" option. (Personally, I love this.)
"You could make this a mini-series!" joked Mark Hamill.
But it wasn't really a joke because producer Ram Bergman offhandedly announced that since there is over 1800 hours of documentary footage, they are actually planning on a mini-series to further highlight this. I initially thought it was a joke but, as I pressed him after the panel, he confirmed with me that he was very serious about it.
Johnson has been famously taking BTS photos and vids on his camera throughout production and promotion of TLJ. I asked him if they were planning on releasing them as a book. He assured me they are working on it, which is very exciting news for fans who love these "Making Of" books and reference guides.
Overall, it was the little quips in between the questions, Hamill's spot-on Homer Simpson impressions and the obvious love between the director and the Jedi that made this experience worth the long drive into the night and the PTO day that I had to take. I am so glad I made the mad dash down the highway to be there.
It was an experience I will never forget. And I have the pictures and the (luckily) signed book to make sure of it.
Enjoyed this article? Share it!