Mozart in the Jungle sure started with a promising season 4 first episode, and it looks like we're finally going to get the relationship pairing of Rodrigo and Hailey like we've been waiting for.
In season 4, episode 1, 'The Boyfriend', Rodrigo (Gael Garcia Bernal) and Hailey (Lola Kirke) set off on a 10-hour bus ride to visit her parents. Their relationship reached a new public state with Gloria (Bernadette Peters) giving her blessing, but Thomas (Malcolm McDowell) being against it. Egon (John Cameron Mitchell) the ballet director wants to collaborate on a new piece based on "Faust" with Rodrigo, and Cynthia (Saffron Burrows) is doing her best to direct the youth orchestra.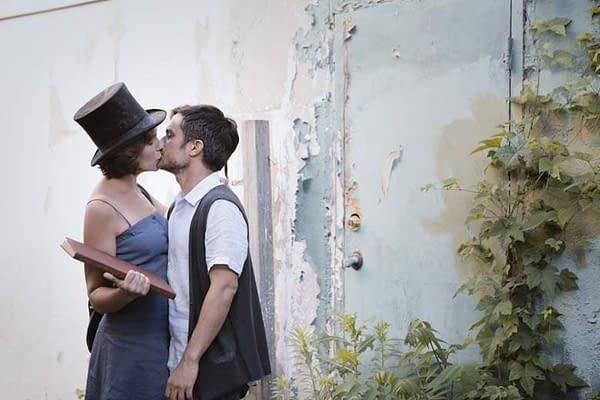 On to s4e2, 'If I Was An Elf, I Would Tell You':
We start off with a flashback to a young Hailey, before a big audition, and her father.
Young Hailey messes up in mid bar, and runs out of the audition. She runs outside and tosses her oboe case into traffic.
Back in the present, Hailey's mom (J. Smith-Cameron) urges dad (Frank Wood) to let her 'come to him'
"There's a man in our tree."
While cuddling in her childhood bed, Hailey asks Rodrigo to not tell her parents about her issues with her audition with the NY Symphony, and to downplay her current path with conducting.
Hailey's dad asks her to stay and play something for their vowel renewal, but we can tell she really doesn't want to stay any longer than she needs to.
Oh, the entire reason she's there is to teach a master class at her old school.
In another beautiful magical moment between Hailey and Rodrigo, he talks about them maybe ending up living in her family's home "when [they] have kids," and Hailey sort of dismisses it, saying it wasn't where she pictured them ending up. She calls him a magical elf.
"If I were an elf, I would tell you."
Gloria wakes up Thomas in the middle of the night after calling out in ecstasy that His Holiness The Pope would be visiting.
Thomas, of course, wants to take over conducting that night, but Gloria puts the kibosh on that.
Hailey takes Rodrigo on a bike ride through her town, and they listen to Tschowski on a tiny tape deck attached to the front of her bike.
They go to a antiques store, and she says she used to practice there.
He picks up a banjo (for the first time) and perfectly begins playing.
"See, elf."
Rodrigo goes outside to find Mozart sitting there looking like death warmed over.
"I could appear to anyone, but I chose you. You're wasting time."
Rodrigo goes to Hailey's masterclass, where the young kids play for her and ask her questions.
Her father sneaks in and hears about Hailey changing focuses. Rodrigo sees her realize this and changes the focus to ask her how she picked up the oboe.
Hailey says her father chose the instrument for her, and in telling the story, her dad leaves.
Back in New York, Cynthia meets with Gloria to say she wants to play with the orchestra even though she's not fully healed. She begs, appealing to Gloria's sense of sympathy.
Thomas is working on his memiors, recording a passage about kimono and Yoko?
Alan Lawford (Matthew Maher) comes to visit Thomas, with the offer of directing the Queens' Philharmonic.
Rodrigo reveals to Hailey's parents that he's been married five times to the same person, but now she's a nun.
A slightly uncomfortable dinner conversation, with Hailey's dad saying that she can't follow through with anything.
Rodrigo comforts her in his way, saying he can't wait to see what she does once she 'breaks away' from her slightly poisonous parents.
Hailey confronts her dad and tries to explain to him why she's changed her focus, and he continues to tell her she isn't following through. "Things don't always work out," he tells her.
Rodrigo borrows a violin in order to accompany Hailey's playing for her parents' vow renewal.
They have such a pure moment of connection while playing together, you can see that continued blossoming.
She asks him to move in with her, and the two get on the bus to return home.
Enjoyed this article? Share it!