The Tax Collector Trailer Has Dropped, Film Releasing August 7
The trailer for Shia LaBeouf film The Tax Collector is here, and it looks like director David Ayer may have a hit on his hands here. LaBeouf and Bobby Soto star as local taxmen who collect their bosses cut of profits from local gangs. Their boss's old rival comes calling, and the two find themselves fighting for their families and each other's lives. The film also stars George Lopez and Cinthya Carmona. Ayer is also the writer for the film, getting back to the grittiness of some of his previous efforts. You can watch the trailer, read the synopsis, and see the poster for The Tax Collector down below.
The Tax Collector Synopsis & Poster
"David (Bobby Soto) and Creeper (Shia LaBeouf), are "tax collectors" for the crime lord Wizard, collecting his cut from the profits of local gangs' illicit dealings. But when Wizard's old rival returns to Los Angeles from Mexico, the business is upended, and David finds himself desperate to protect what matters more to him than anything else: his family." Soto could break out in this film, he has a very soulful look to him, and even in the trailer has charisma for days. It is LaBeouf that I am just having a hard time buying as a John Wick style badass. I can't see it. That doesn't mean he doesn't pull it off; it just means he has a long way to go to prove it to me.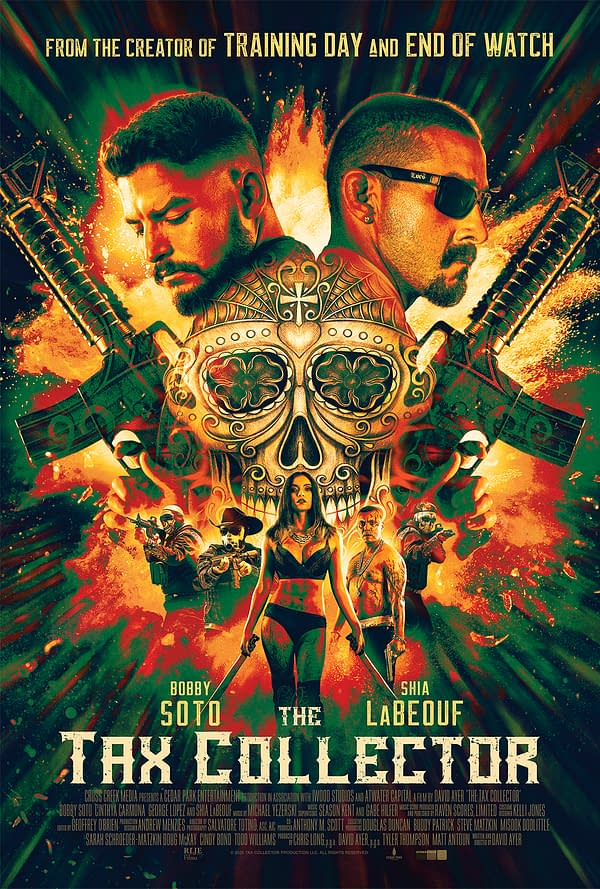 I really don't have anything too negative to say here, though. I enjoy Ayer's film's for the most part, and The Tax Collector looks like it will fit firmly in his wheelhouse. It all hinges on our ability to but Shia as a badass when the film hits select theaters, on-demand, and digitally on August 7th.