Thor: Ragnarok breakout star Tessa Thompson (who we'll admit we loved before then, but she really was amazing) is not afraid to show her support in shirt form. My current favorite Friday themed hashtag on the social medias, #FemaleFilmmakerFriday, is a celebration of all the wonderful females working in the film industry.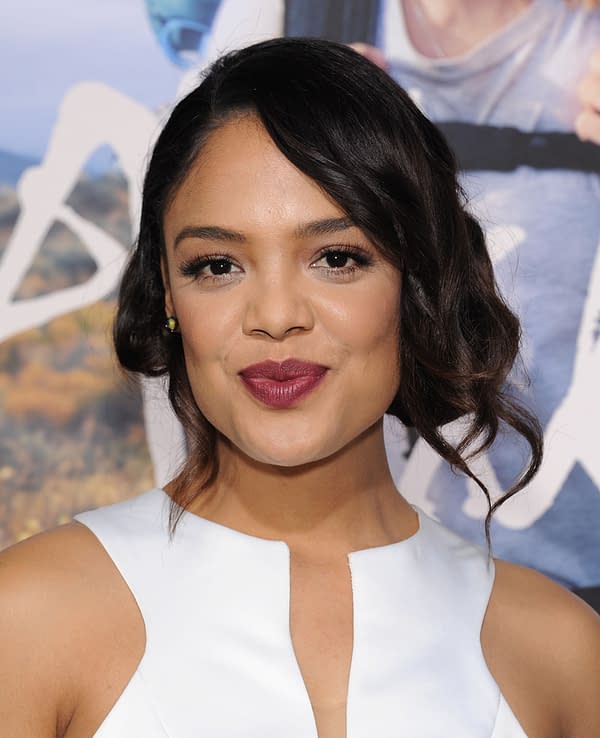 Thompson wanted to show her love of some of the notable female directors, and did so with a pretty fabulous red top during a Sunday luncheon last week during Sundance.
You can see her flashback friday post here on her instagram:
"Ava, Greta, Patty, & Dee" the shirt reads, referring to directors Ava Duvernay (Disney's A Wrinkle in Time) Oscar nominee Greta Gerwig (Lady Bird), Patty Jenkins (Wonder Woman) and Dee Rees (Mudbound).
A quick gander through the #FemaleFilmmakerFriday tag on twitter results in some pretty great moments, like this one from Duvernay:
Happy #FemaleFilmmakerFriday. I love seeing all the images of women helmers doing their work. We are a small, but mighty tribe. A few pix with my boys on #WrinkleinTime. pic.twitter.com/tWUawlkGVt

— Ava DuVernay (@ava) January 26, 2018
Queen Latifah posted about working with Dee Rees:
In honor of #femalefilmmakerfriday, here's a picture from the set of #Bessie with the amazing #DeeRees 🎥 pic.twitter.com/a2ajcae3LI

— Queen Latifah (@IAMQUEENLATIFAH) January 26, 2018
While not tagged with the Female Filmmaker's line, Vikings star Katheryn Winnick *is* stepping into her first director gig for the next season of the series:
This one from Jane the Virgin star Gina Rodriguez:
https://twitter.com/HereIsGina/status/957036854578069505
America Ferrera posted about her experience:
#FemaleFilmmakerFriday My first time directing in 2008 on a short film called PARENTAL GUIDANCE. I made so many mistakes but I learned 2 important things: that I love directing & I have good instincts! If I can do it, YOU CAN DO IT! Learn from your mistakes & keep doing it! pic.twitter.com/TAI4FVPP17

— America Ferrera (@AmericaFerrera) January 26, 2018
Even Netflix got in on the tag:
#FemaleFilmmakerFriday: Melissa Rosenberg ("Jessica Jones"), Dee Rees ("Mudbound"), Tamara Jenkins ("Private Life"), Rachel Morrison ("Mudbound") pic.twitter.com/EFtr00S86e

— Netflix (@netflix) January 26, 2018
The upcoming Freeform Marvel series Cloak & Dagger director Gina Prince-Bythewood posted this shot:
On the set of #cloakanddagger. In the green bomber that keeps me toasty on freezing night shoots because I cannot function when I am cold. #femalefilmmakerfriday pic.twitter.com/D3YBXWA7XO

— Gina Prince-Bythewood (@GPBmadeit) January 26, 2018
Enjoyed this article? Share it!