Posted in: Exclusive, Horror, Interview, Movies | Tagged: Cerina Vincent, Dave Sheridan, exclusive, Gigi Austin, interview, Marcus Friedlander, Monique Parent, Neon Noir, Sarah French, That's a Wrap
---
That's A Wrap Cinematographer On Neon Noir Thriller, Nolan Inspiration
Cinematographer Marcus Friedlander (The Getback) talks to Bleeding Cool about Quiver Distribution & Neon Noir's thriller That's a Wrap.
---
Marcus Friedlander is always looking for new challenges as a cinematographer and it's thanks to visionaries like Christopher Nolan and how he uses film as his canvas. He started his path as a producer in the 2012 short Insatiable. From there, he's worked his way up from being a camera operator to cinematographer. Among his most notable work is Sony's Secrets of Deception (2017), Tubi originals Lord of the Streets, and The Getback. His latest is Quiver Distribution & Neon Noir's That's a Wrap, which follows The cast of a film arriving at a wrap party, but someone has dressed up as the slasher in the film and begins to stage their own kill scenes. One by one, the cast disappears until the true nature of the evening is revealed. Friedlander spoke with Bleeding Cool about how he was recruited, his use of color and space, and trying to be resourceful on limited resources.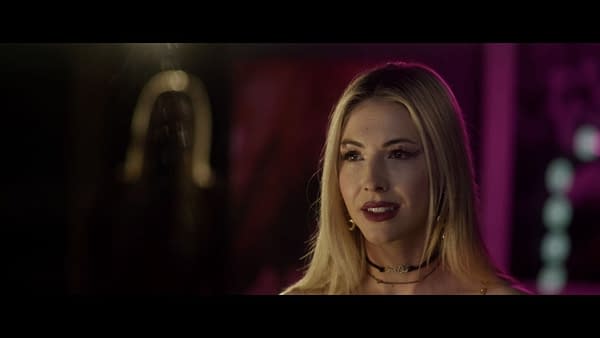 The Colorful Horror-Thriller World of That's A Wrap
BC: What intrigued you That's A Wrap?
Friedlander: Definitely the genre aspect of it was interesting to me, but also the passion that [director] Marcel [Walz], [writer] Joe [Knetter], and [producer] Sarah [French] have a talent for this type of storytelling and being able to, with their limited resources, create something had a greater than the sum of its parts and I was attracted to those both those ideas.
How do you prepare for something like this? How does this compare to your other work?
This was not like the things that I've done recently. Earlier in my career, I was doing more elevated horror types of stuff, thrillers, and things that have big color palettes like this as well. From 2018 to 2021, I was doing mostly commercial studio-type, low-budget studio-type projects, a lot of asylum stuff, and Lifeline stuff, and got myself more into a standardized type of look and way of working. Working on something like That's A Wrap and working with Neon Noir reinvigorated who I am as a filmmaker and why I got into this industry to tell these types of stories. One of the reasons I'm in Vegas now is about to start another movie with Neon Noir starting next week, and hoping to put together another magical production.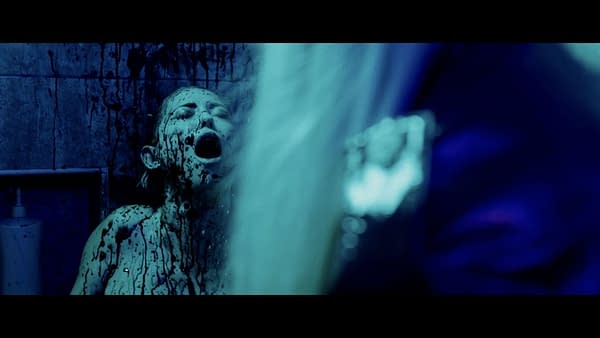 What are some of the biggest challenges on something like this as far as bringing Marcel's vision to life with the use of color and everything?
That's probably the biggest challenge is the time and the resources aspect of it. We only have eight days to shoot the film, and even though it's written intelligently, to take advantage of the time and space that we had. Reality is practical effects that take a long time to do right with the big color looks that we're trying to do. It was pushing as hard as we could from start to finish. Luckily, since I've done a lot with Asylum and Lifeline, I'm used to working quickly, and I understand how to get something done without dillydallying, without wasting time, and knowing before I even walk on the set what exactly we need to do to accomplish the look we're going for. Even though it was a complicated film, it wasn't. At no point did [I] ever feel like it was an impossible film.
Was there a particular sequence or scene that stood out to you that maybe took a little more time than the others?
There is a difference between the kill scenes when it comes to the time and the specifics of it and then the dialog scenes. Of all the kill scenes, the one that took probably the most time and the most specific effort was…I probably shouldn't reveal any spoilers that would affect the fun of a particular kill that involves that hefty blood gag and painting the walls with blood. What that meant for us is we only had one shot at it. If everything went poorly, we had a contingency plan to figure out how to redo it.
The reality was we had to get it done right the first time and had only two cameras rolling for a big effect. Things like that always make me nervous. I did an action film last December where we did a car stunt where the car flipped. We had seven cameras rolling for that. That makes a lot more sense than two cameras, but with two cameras to capture was exactly what we needed, and the effect was perfect. The performances were amazing. There's no way to explain to an actor how much force is about to come out of their body. Basically, the actor gave the performance exactly what we needed, and the editing team did a great job putting it together.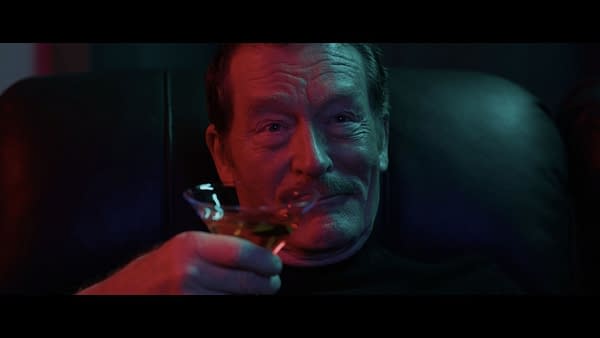 What were some of your biggest inspirations just kind of coming up in the industry and growing up in this field?
My biggest inspirations are how Christopher Nolan structures films or the way Breaking Bad was shot. I fell in love after seeing Memento. It totally blew my mind how you could structure a movie in that way, and it made sense to me for the rest of my career. Every scene in the film reflects your main character in some way, shape, or form in the arc that they're going through. Why would the structure itself not? It's obvious when you think about it, but not as much to everybody else in the world.
A huge influence for me is the idea that every single thing I do as a cinematographer needs to reflect that as well with the arc over the course of the film as with the characters. In this hypothetical story about a character kind of losing control. You probably want to start with strong, rigid compositions, tripods, those types of things, and then slowly transition into dollies, gimbals, and Steadicam, which enhance the film and that type of art and cinematography. I would not have appreciated it if it weren't for Christopher Nolan's story structure.
Was there a particular genre you hope to tackle in the future?
One of the things that I've prided myself on for the last ten years of my career is I've been able to do genre films successfully. I've done a lot of sci-fi, thrillers, horror, and some rom-com. What I haven't done, and I'd like to add this to the list, is a big sword-and-sandals epic like Gladiator type of film. That's on my thought process of doing something like that to help round out my experience. If there was a particular genre that I wanted to do that I wanted to focus on, probably be a musical. I have loved pursuing music since it started my career. I love the idea of telling stories to music. It's not possible to do it on the budget that I work on, let alone something that people are interested in doing.
Directed by Marcel Walz and written by Joe Knetter and Robert Lucas, That's A Wrap stars Cerina Vincent, Monique T. Parent, Sarah French, Gigi Gustin, and Dave Sheridan. The film is available on digital.
---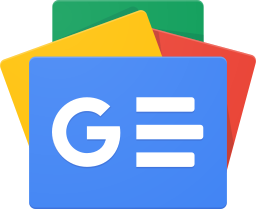 Stay up-to-date and support the site by following Bleeding Cool on Google News today!