Director Joel Schumacher was never afraid to take risks over his five-decade career. He dabbled in everything from court thrillers adapting John Grisham novels A Time to Kill and The Client to the big screen, supernatural thrillers in Flatliners and The Lost Boys, and action-comedies like the Batman films. Despite his passing on June 22nd, let's celebrate the director's finest achievements. Here's a comprehensive list of my top 5 must-see Schumacher films that best demonstrates his passion for filmmaking.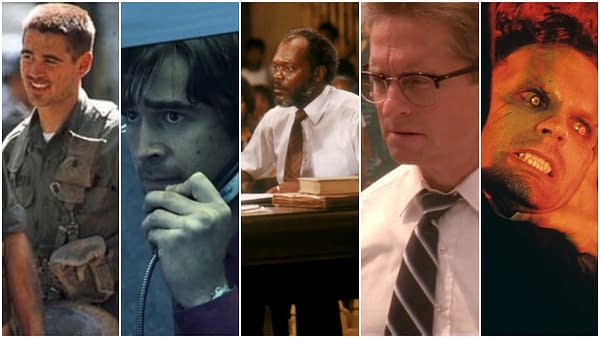 5. Tigerland (2000)
Few films capture the grueling experience of the Vietnam War without actually having to deal with the war itself. The only other film that comes to mind that enters the mindset of US soldiers before deployment in a movie is Stanley Kubrick's Full Metal Jacket (1987). Schumacher's Tigerland follows Private Roland Bozz (Colin Farrell), who is drafted to serve in 1971 but objects politically for what the war stands. He attempts to find different ways to get discharged as his platoon gets sent to "Tigerland", the military's training ground before deployment. Bozz receives more than what he bargains for as the army preps to serve as the squad leader. Written by Ross Klevan and Michael McGruther, the film primary force is its young cast anchored by Farrell, including Matthew Davis, Shea Whigham, Clifton Collins Jr, Thomas Guiry, and Cole Hauser. Despite its $10 million budget, the film was woefully underpromoted, only making $148,701 at the box office, which is quite shocking for a war film. It's by far Schumacher's most underappreciated film that deserved better. Of all the young casts he's dealt with over the years in Flatliners (1990), The Lost Boys (1987), and St. Elmo's Fire (1985), I feel the rapport in Tigerland gelled the best, and that's saying a lot considering all the talent involved in the aforementioned films.
4. Phone Booth (2002)
Kiefer Sutherland is a Schumacher favorite, but he turned his best performance in the Alfred Hitchcockian thriller Phone Booth. He plays a nameless sniper who contacts Stuart Shepard (Colin Farrell), a successful publicist in New York City who's about to have all his skeletons fall out from his closet. While the premise is hard to absorb in the age of smartphones, 99 percent of the film takes place in Stu's prison, a payphone. As the nameless sniper starts unraveling details of Stu's life, continually reminds him of the imminent danger he's in with his laser scope trained on him. To throw in extra deterrents, the sniper also interacts with Stu's surroundings from others, trying to use the phone to threatening blackmail that will ruin Stu's career upon contact with his loved ones.
While the premise of Phone Booth might appear to better fit within an episode of The Twilight Zone, Schumacher and writer Larry Cohen manage to stretch the Greek tragedy to its limits. The initial premise is any one of us can be Stu, but as we hear more about his story and transgressions, is he still someone to root for? Do we really want to see Stu come out of this, or should he answer for every amoral thing he's done? Before long, the line between what is and isn't just becomes blurred and Stu borders to stop being a sympathetic character. Make no mistake; the film is all about Sutherland and Farrell's performances. Forest Whitaker becomes an equal partner from an outsider's view in the standoff as police captain Ramsey as the psychological chess game slowly introduces more elements for the sniper to play with. While the roles were never meant to be significant, Radha Mitchell and Katie Holmes fulfill what is asked of them in underutilized parts as Stu's wife Kelly and girlfriend Pam. Phone Booth could easily be a disaster in lesser hands, but Schumacher's execution makes this an underrated classic.
3. A Time to Kill (1996)
Of the four John Grisham novels adapted to films, half were directed by Schumacher in The Client (1993) and A Time to Kill (1996). Both were great films, but I regard A Time to Kill to be the superior work. Set in Canton, Mississippi, a 10-year old African American girl is abducted, raped, and beaten by two local white men. Upon finding out that his daughter's rapists might go free, Carl Lee Hailey (Samuel L. Jackson) takes matters into his own hands, killing the two suspects at the county courthouse. Carl is subsequently arrested, and the district attorney Rufus Buckley (Kevin Spacey) is seeking the death penalty. The case draws national attention, but the odds are stacked against Carl, given the racially-divided nature of the area and facing an all-white jury. Defending Carl is Jake Brigance (Matthew McConaughey), a white lawyer who defended his brother in a prior case.
Jake is not only dealing with the trying to sway a heavily-prejudiced community, but those who agreed to help him with the case with law student Ellen Roark (Sandra Bullock), Harry Rex Vonner (Oliver Platt), and his mentor Lucien Wilbanks (Donald Sutherland) are dealing with mounting threats from the KKK. The film continues to remain relevant today as it did during the film's release in 1996. What makes A Time to Kill work are the intense performances from Jackson, McConaughey, and Bullock. It's no surprise the three became powerhouses for years to come with Oscar wins for McConaughey and Bullock later in their careers. And Jackson, who was already nominated for 1995's Pulp Fiction. Kiefer Sutherland also puts in an intense display as the vengeful brother of one of the murdered men. A Time to Kill remains painfully as relevant in 2020 as it did in 1996, given the continued social unrest and lack of empathy. Akiva Goldsman (Star Trek: Picard) wrote the screenplay.
2. Falling Down (1993)
Before Joaquin Phoenix transformed himself from Arthur Fleck to The Joker in the 2019 Todd Phillips film, Michael Douglas' Bill "D-Fens" Foster was already doing the angry White man schtick tearing through Los Angeles tackling bullet points of mounting social issues in 1993. Stuck in traffic and wanting to see his daughter, D-Fens abandons his car to make way on foot to Beth (Barbara Hershey), his estranged wife. His rampage starts at a convenience store when he looks to buy a soda but feels overcharged when the clerk, Mr. Chan (Michael Paul Chan), informed him of the price. Not wanting to hear Bill's complaints, he threatens him with a baseball bat. Bill wrestles the bat away from Chan and starts asking the prices of random items in the store. When the disgruntled patron doesn't like what he hears, he destroys the stock with a swing. When D-Fens asks again for the price of the soda, Chan acquiesces, giving him a lower price. The customer pays "the fair price" and leaves with Chan's bat. From there, D-Fens finds himself in various scenarios throughout the city crossing gang members, barely missing breakfast serving hours at a fast-food restaurant, and setting a neo-nazi straight.
Prendergast played stoically by Robert Duvall, is a detective about to retire when he comes across Bill's exploits throughout the city attempting to track him down. Most of the supporting cast stand up on their own, but Douglas puts on a tour-de-force becoming unhinged as he releases his inhibitions unknowingly becoming a righteous vigilante. He slowly becomes aware of his fame as word spreads throughout the city of his exploits when he's just trying to get home. What sets Falling Down apart from Joker, is how much more focused the 1993 film is than just the repressed nature of Phoenix's character. Bill is trying to live an honest life and become a provider when he finally decided to do something as life got out of control. Fleck wanted praise and fame but ended up accepting that any fame is better than none at all after feeling invisible and mocked all his life. Bill never wanted to be famous, but Fleck did. Falling Down is a better everyman story with Schumacher's direction and a better script from Ebbe Roe Smith than Joker. I would argue the latter film benefitted from an existing bitter and cynical society, whereas attitudes in 1993 were not as jaded then.
1. The Lost Boys (1987)
Arguably Schumacher's best and pop-culturally relevant film, The Lost Boys, was the perfect hybrid of punk and horror. Inspired by the characters from J.M. Barrie's Peter Pan, the movie set the bar that's stood for generations, and no contemporary franchise can ever match. There is simply nothing better when it comes to young adult vampire stories. Written by Janice Fischer, Jeffrey Boam, and James Jeremias, the story follows two brothers Michael (Jason Patric) and Sam Emerson (Corey Haim). They move to the beach town of Santa Clarla, California, with their mother Lucy (Dianne Wiest). As they acclimate themselves to the town, they find there's far more than meets the eye when Michael comes across David (Kiefer Sutherland), the leader of a local youth biker gang. Michael gets in too far deep with the gang, and what he initially thinks is a harmless initiation, ends up turning him to a vampire.
Sam comes across two brothers in the comic shop Edgar (Corey Feldman) and Alan Frog (Jamison Newlander), who claim to be vampire hunters and barely passing for amateurs. As Michael attempts to keep his primal side at bay, the four try to devise a way to get at the "head vampire" and try to turn Michael back to normal. Compared to other monster contemporary classics of the time like The Howling (1981), Fright Night (1985), and Teen Wolf (1985), none can match the energy and dynamic performances of The Lost Boys. In fact, I wouldn't be one bit surprised if Robert Rodriguez's From Dusk Till Dawn (1996) took some inspiration took inspiration from the Schumacher film during the protagonists' arming sequence before the final confrontation.
Enjoyed this article? Share it!