This reviewer has been waiting [impatiently] for the film adaptation of Steve Alten's novel "The Meg" for many, many years. Perhaps you'll recall that Disney had actually optioned the title as far back as the 90's, and it's been sitting at the bottom of the development-hell ocean for decades.
Imagine my absolute delight when word came down that Warner Bros. was developing the picture, with a hefty influx of Chinese cinema money and Jason Statham attached to star.
If you are unaware of the story, megalodons survived the believed extinction of their species by diving deep into the Marianas Trench, protected by a thermal-cline layer of minerals. Through some exploratory human involvement, one of the prehistoric sharks makes it way through the clime and to the surface, where it follows it's own evolutionary drive- to hunt.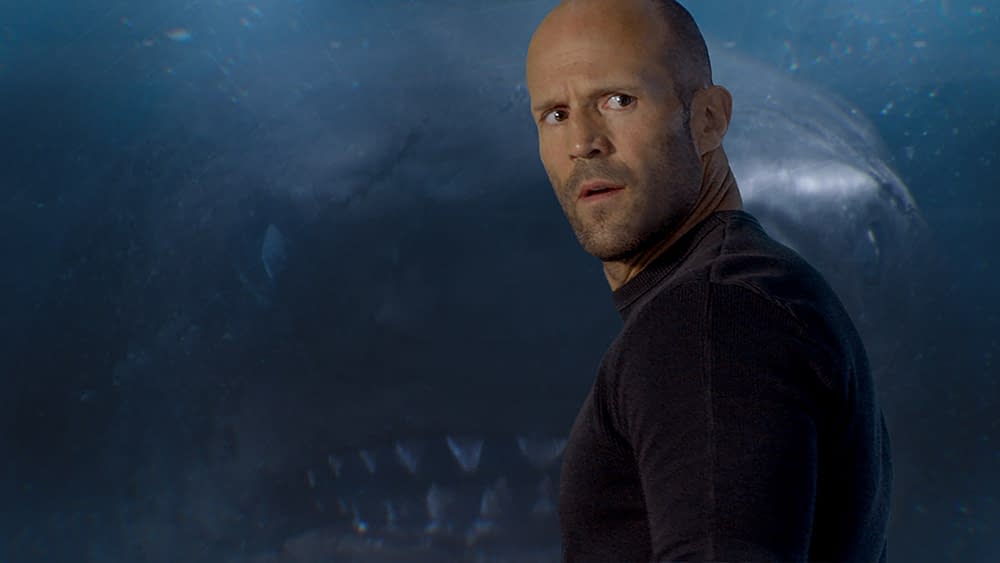 Jonas Taylor (Statham) once encountered a meg when he was a military serviceman, specializing in deep sea rescues, and is brought back into the seafaring fold after another chance encounter with something big and hungry.
In addition to Statham and Li Bingbing, the cast includes Winston Chao, Masi Oka, New Zealander Cliff Curtis (hell yeah Rabbit from Trauma), Rainn Wilson, Ruby Rose, Page Kennedy, Jessica McNamee, Olafur Darri Olafsson, Robert Taylor, and Sophia Shuya Cai.
Fans of the book series will no doubt be disappointed with this adaptation, for numerous reasons. That's not to say it isn't entertaining, there are so many moments of outright laughing out loud, but the science element and real-world believability that make the Alten novels so enjoyable just isn't there.
Like deep sea pressures. There is a scene in the film where a person is able to decend in a submersible at a breakneck pace to the fathoms, something that could not happen. Yes, it's a film about a giant freaking monster shark eating people, so why harp on the 'realities' of things, I understand how silly that sounds.
That said, perhaps the best chance from book-to-film is the presentation of women. Again, I'm a fan of the books, but they very much read that Alten doesn't think very much of women. In the film version of The Meg, the women are very much the backbone of everything that happens above and below the surface.
It should also be noted that this film is not a scary flick by any stretch of the imagination. It will not cause the widespread refusal to "go back into the water" because it comes across as so ridiculously implausible. The PG-13 rating also tells you much about what you're going in for- there is very limited blood and (human) gore, and that was by design.
This is a film that multiple age groups can view and enjoy, I think, meaning director Jon Turteltaub succeeded in his nixing the truly horror-based carnage for the PG-13 rating.
SCORE: 2.5 out of 5, viewed in IMAX non 3D, unsure if would see theatrically again
I'm still hopeful that perhaps The Meg doing well at the box office (it could happen!) would encourage the studio to think about adapting the other novels in the series, as things get seriously interesting as the story progresses.
The Meg takes a bite out of theaters on August 10th, 2018.
Enjoyed this article? Share it!