*** This article contains spoilers for the most recent episode of Arrow ***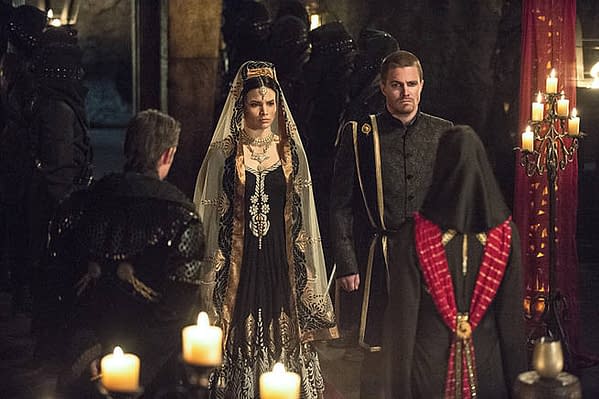 I am so glad that this was not the season finale. If I had to wait all summer to find out what happens next… lets just say it wouldn't be pretty. This one had a lot of twists and turns in it and a whole heap of betrayals. Now while I'm counting the hours until the season finale, lets go over the six important moments from last night's episode, This Is Your Sword.
1) We open with John Diggle and Black Canary taking out a gang. Diggle is still angry about what Oliver Queen did last week and takes his anger out on the gang members. This shows that the kidnapping of Lyla Michaels and the returning of Nyssa al Ghul to Nanda Parbat has destroyed Oliver's relationship with the rest of Team Arrow.
2) The Roy Harper / Thea Queen scenes go through out the episode, but besides giving them a proper goodbye, the main moment was two fold… Roy telling Thea that she needs to go on with her life. That Oliver's sacrifice was for her to live. And the second thing, by leaving the Arsenal costume with her he is basically opening the door for Thea to become Speedy… a door that was slightly cracked last week when she showed up with a bow and shot Ollie in the arm.
3) After finding out that Ra's al Ghul has the Alpha and Omega, and that he expected Oliver to marry Nyssa and then fly to Starling City to kill everyone… Oliver decides to take a walk where he meets with Malcolm Merlyn. We learn that this whole thing has been a plot to dismantle the League of Assassins from the inside. The problem is that Ra's is moving things along quicker than expected and now Oliver is going to need help. Too bad he pissed off all of his friends last week.
4) Malcolm, with the help of Tatsu Yamashiro, convinces Team Arrow to go with him to Nanda Parbat to stop the plane Ra's is going to use to destroy Starling City. In the battle with the League, Malcolm saves both Laurel Lance and Felicity Smoak and Ray Palmer takes out the jet with his Atom suit. Also, Tatsu in her Katana gear ends up killing her husband Maseo Yamashiro. But Ra's, Oliver and the rest of the League show up and take them all into custody. Seems the jet was a ruse and Oliver was in on it… or was he.
5) In order to save his own life, Malcolm tells Ra's that it was Oliver who leaked the information and that Oliver has been playing him the whole time. But Oliver denies it and Ra's believes him over the less than trustworthy Malcolm. The Dark Archer is thrown back into the cell with the others and Katana is removed… saying she was inoculated against the virus. Then a vial is broken on the floor and Team Arrow is left to die without Oliver lifting a finger.
6) While the others seem to be dying, Oliver stands at the alter waiting for his bride. She arrives and at one point tries to stab him… not a good first day of marriage… but he blocks it. As the ceremony goes on, we see all of the team in the cell drop to the floor unconscious.
No one believes that they're going to kill off all of the supporting cast of Arrow (except Quentin Lance and Thea). But they immediately show us next week's trailer and it includes the team still alive, the Flash is involved and what looks like Oliver about to fight Ra's. I would have just put up a sign saying "see you next week."
[youtube]https://youtu.be/RrCwIUEIWb0[/youtube]
Enjoyed this article? Share it!