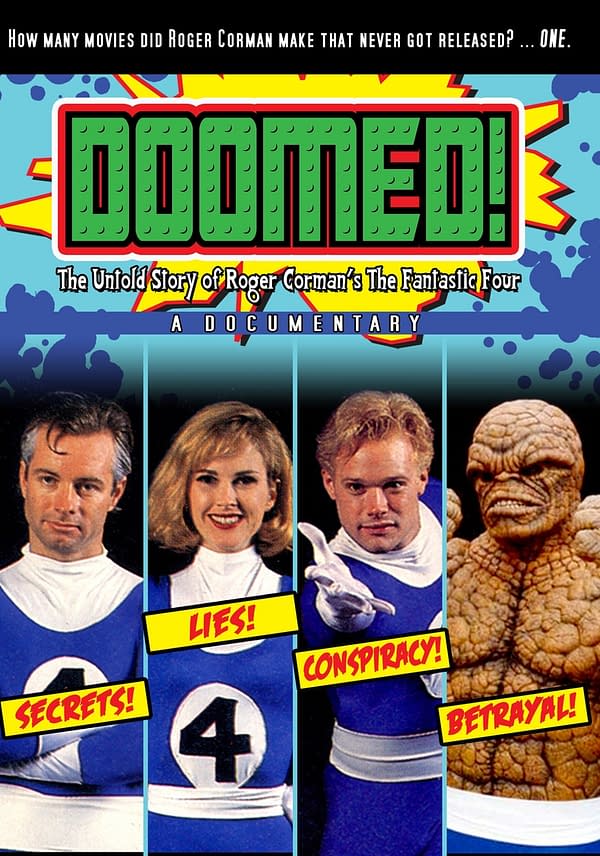 Roger Corman's Fantastic Four movie may never have been officially released. But the movie about the movie will be.
No VHS-to-VHS bootleg copies for this one. Written and directed by Marty Langford, Doomed! will be distributed in the US and Canada by Uncork'd Entertainment.
Chronicling the history of Roger Corman's 1994 movie version of The Fantastic Four, it features never before seen footage from the production as well as new on-camera interviews with cast and crew including Mr. Corman, Jay Underwood, Michael Bailey Smith, Joseph Culp, Alex Hyde-White and Rebecca Staab.
Uncork'd Entertainment President Keith Leopard says "The average moviegoer doesn't know that, ten years before releasing Tim Story's version, Roger Corman was asked to produce a Fantastic Four movie. Unbeknownst to cast and crew, the film was never going to be released though – and for a variety of reasons. Doomed! is such a compelling documentary – and not just for comic book movies but anyone intrigued by the ins and outs of Hollywood and business. In short, it's a Fantastic movie."
Doomed! The Untold Story of Roger Corman's The Fantastic Four will be released digitally on 11th October and on DVD in time for Christmas on 20th December.
Take a look below…
https://www.youtube.com/watch?v=QW5rLyzFWJM