The Visitor: Jessica McNamee on Psychological Thriller & Finn Jones
Jessica McNamee is becoming one of the most versatile actresses in Hollywood across film and television with her share of dramas, comedies, and horror. In Paramount and Blumhouse's The Visitor, The Meg and Mortal Kombat star plays Maia, who's married to Robert (Finn Jones), as they decide to move to her childhood home after a series of tragedies. After discovering a portrait of a man who looks like him, Robert goes down a rabbit hole to discover the identity of this mysterious doppelganger. McNamee spoke to Bleeding Cool about what appealed to her about the psychological thriller, working with Jones and director Justin P. Lange.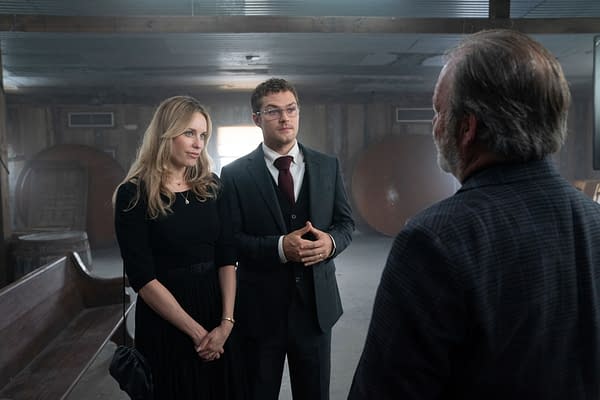 Bleeding Cool: What intrigued you about The Visitor?
McNamee: I started reading the script and liked what I saw with this interesting couple. My character didn't jump off the page for me at first. I was reading along right to see where this is going, what's going to be, and if there will be a catch for this character. Of course, there's a big twist at the end and flipping this character on her head was really cool. I hadn't played this kind of role before. Also, I was really scared about all the scenes where I was giving birth and other things that scared me when I read it on the page. I thought, "You know what? I'm just going to lean in, and even though it scares me, I will give it a go."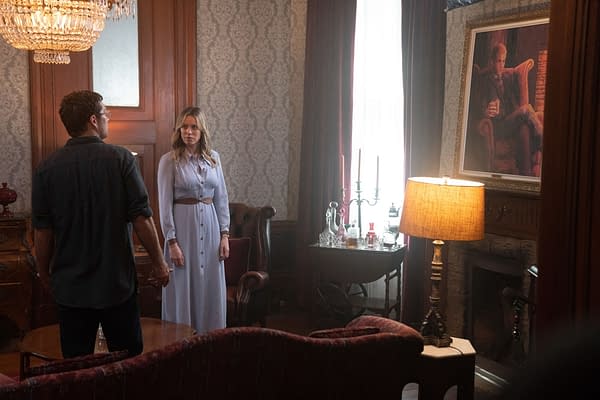 How do you break down your chemistry with Finn?
Finn and I really got along. We met in Aruba for the first time, and we got dinner. We both landed in New Orleans, and we hadn't met yet, so we went to get food and hit it off immediately. We both started joking about something or other and realized we had the same sense of humor and similar taste in music. He's English, and I'm Australian, so I think we kind of have a similar way of growing up. It was easy, and we worked on the script throughout this shoot.
Justin was very open for us to add our flavor to the characters but also worked through some of those little bits of holes in the script here and there. It was a very collaborative process between Finn, myself, and our director, Justin, but it was great. We'd go home at the end of the day and speak in the car about things. Maybe we wanted to change the script or dialog that wasn't sitting well with us. He was always a sounding board for me, and we were always very much on the same page, which was great.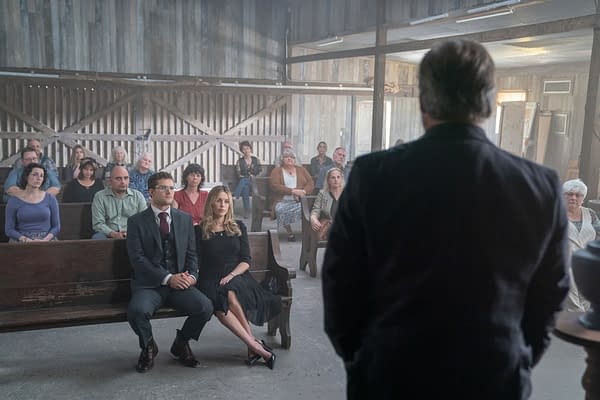 Give me an idea of how flexible Justin was on set. Were you able to improvise on set with him?
There were quite a few changes from the original script to what we ended up shooting at the end of the day. It's funny because now I can't even remember what the initial script was because we did change bits. The main plot points were all still there, but it was more about developing our characters and our relationship as a couple so that the twist at the end would take people by surprise. We didn't want it to be too obvious, and we wanted our audience to believe that this couple was in love, and by the end, when there's this twist, it shocks them.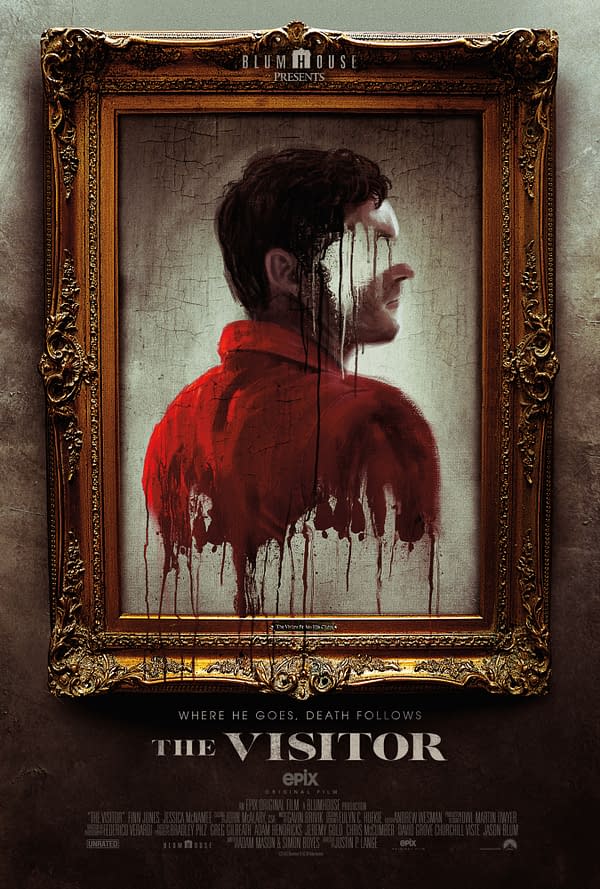 Was there anything prior to taking on this project that may have helped inspire your performance?
I got COVID [laughs] while we were in the middle of shooting. When I came back, I had to do that birthing scene. I feel like that helped [laughs]. I was still not feeling great and so exhausted. I had to go into this kind of really chaotic birthing scene, and I was like, "I swear to God." I was still so out of my mind from being run down by COVID, which helped in my performance. I'm married, and I understand married life and the trials and tribulations that come with it. There are always elements that you lean on. I'm pretty good at having an argument with my husband, so that probably helps whenever I have an argument with Finn on camera [laughs].
Written by Adam Mason & Simon Boyes, The Visitor also stars Dane Rhodes and Donna Biscoe. The film is currently available on digital and on-demand on October 7th and on EPIX on December 2022.