They didn't just talk about Supergirl and Legends of Tomorrow at the Television Critics Association summer press tour. Marc Guggenheim spoke about the series that started it all, Arrow. He assured fans that they didn't kill everyone off by Oliver Queen (Stephen Amell) and his son. We know from the trailer and comments that a few other folks live and that Katie Cassidy, Juliana Harkavy and Rick Gonzalez are all on board as series regulars. And we've seen Harkavy in the new Black Canary costume. Other than that, whose alive and what shape their in is up in the air. but there will be a Team Arrow for season six and Guggenheim spoke about what the finale was meant to do:
The whole idea behind the cliffhanger is that there are consequences to the explosions on the Island that affect Oliver and affect the surviving members of his team. Spoiler alert: we didn't kill off everyone except for Oliver and one person. He still will have a team, just the question is what is the composition of that team, and how are they all affected by the trauma of what happened at the end of last year. I like to say, for us, it's more than a binary thing of who lives and who dies. There are consequences that we're also playing around as a result of what happens at the end there.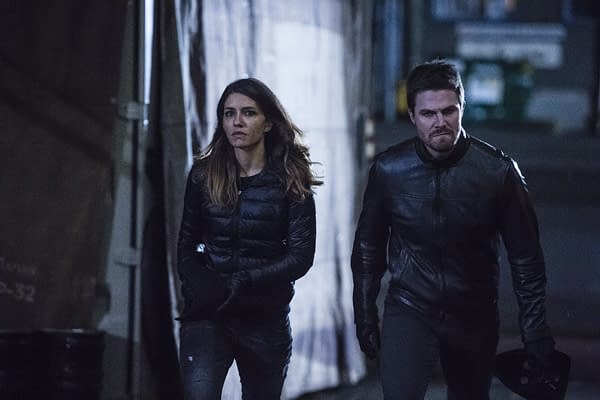 As for who survived, Guggenheim said:
Both Laurel [Black Siren] and Dinah survive. Beyond that, you've got to tune in and watch.
With the series having surpassed their original five year plan, the executive producer was asked if they knew how the series would end, which lead to an interesting admission. The writing team already has ideas for a seventh season:
The earliest we've ever had an idea for a season that far ahead, but it's come out of our conversations about Season 6.
As for that ending:
We've always known how we want to end the show. That endpoint doesn't require X number of seasons. Let's say the ratings completely tank and Season 6 is the last season; we could work toward it as long as we knew with enough leeway. We could work toward the moment that we always knew about since Day 1. I always say when you get into any season, especially at this point, the ratings and the feedback and the network — my instinct is we'll get sense halfway through the season how many more seasons we think we might get. We have a lot of ideas that can expand or contract depending.
My guess, the series ends with Oliver waking up on Lian Yu, alone and starving… still shipwrecked. Everything was a dream.
Arrow returns on October 12th to the CW.
Source: IGN
Enjoyed this article? Share it!