Titanic Coming Back To Theaters On February 10th
Titanic is releasing into theaters once again this Valentine's Day so we can all relive it on the big screen once more.
---
Titanic is sailing back into theaters for Valentine's Day. The film, at one point the highest-grossing film of all time, stars Leonardo DiCaprio and Kate Winslet, and of course, was directed by James Cameron. The film won a record 11 Academy Awards, including Best Picture, Best Director, and pretty much every single technical category. It shares the Oscar record with Ben-Hur and Lord of the Rings: Return of the King. Below is a trailer for the release and a new poster as well.
It Might Be Cool To See Titanic On The Big Screen Again
"In celebration of its 25th anniversary, a remastered version of James Cameron's multi-Academy Award®-winning "Titanic" will be re-released to theaters in 3D 4K HDR and high-frame-rate. With a cast headed by Oscar® winners Leonardo DiCaprio and Kate Winslet, the film is an epic, action-packed romance set against the ill-fated maiden voyage of the "unsinkable" Titanic, at the time, the largest moving object ever built. "Titanic" won a record 11 Academy Awards® including Best Picture, Best Director, Best Cinematography, Best Film Editing, Best Art Direction-Set Direction, Best Costume Design, Best Original Dramatic Score, Best Original Song, Best Sound, Best Sound Effects Editing and Best Visual Effects. Upon its initial release in 1997, the film became the #1 all-time global box office champ and is currently the third highest-grossing film worldwide."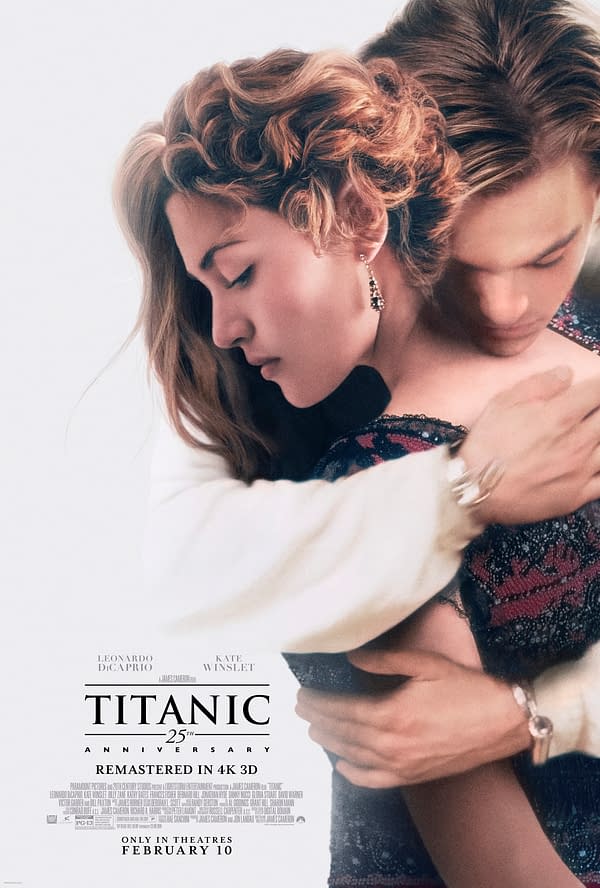 Ahh, it seems like I was in eighth grade only yesterday and waiting in an absurd line to see this on opening weekend. I, like most, saw this multiple times in the theater, four times to be exact. The spectacle of it still holds up, as does the performance by Winslet. Recently we discussed if my daughter wanted to watch it, so maybe we will hold off and see it on the big screen, the way it was intended to be.