Unseen Star Midori Francis on Physical Prep, Purdy, Okumura & More
Midori Francis (Grey's Anatomy) talks to Bleeding Cool about her latest horror-thriller Unseen for Blumhouse, Jolene Purdy & more.
---
Midori Francis has accomplished a lot in a relatively short time since emerging on the scene in her debut in the 2015 short Killing Machine. Since then, she's had memorable roles across film and television, including Fox's Gotham, Paramount+'s Younger, Warner Bros' Ocean's Eight (2018), Meta's The Birch, and Netflix's Dash & Lily. The actress, who's currently starring in HBO Max's The Sex Lives of College Girls and ABC's Grey's Anatomy, spoke to Bleeding Cool about her upcoming Paramount & Blumhouse TV horror thriller in Unseen, director Yoko Okumura, her physical prep, and co-star Jolene Purdy. The film follows two women who form an unlikely connection when a depressed gas station clerk Sam (Purdy), receives a call from Emily (Francis), a nearly blind woman who is running from her murderous ex in the woods. Emily must survive the ordeal with Sam being her eyes from afar using video calls.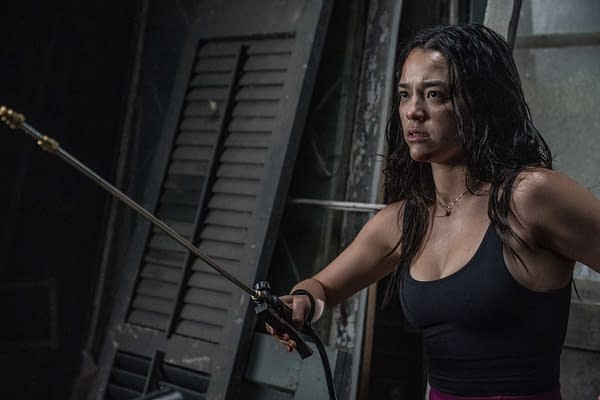 Surviving Sam's Nightmare in 'Unseen'
Bleeding Cool: What intrigued you about 'Unseen?'
Francis: It was something I hadn't done before. I was interested in everything I got to do physically as an actor. I knew I would not be bored. Everything from scaling walls to fighting a big man, running through the dirt, to the visual impairment aspect of the role. I see the emotional stakes of every moment. Emily is somewhere between seven and ten emotionally throughout the entire film. I knew it would be challenging, but in the best way, where I would have to leave everything out on the floor. I was desperate for something like that when it came up. When it came into my inbox, and I saw Yoko was directing, I was excited. When I found out Jolene was cast as Sam in this, I was more excited since I saw her on 'The White Lotus.' The script had a few unique characteristics that helped it stand out as a thriller.
What prep work did you do to get into your character, Emily?
I had about a month, month, and a half of a heads up before I was going to go to New Orleans to film. I used that time to get physically into shape. It was the winter, and [laughs] I wasn't working out as much as I should have been. The physical stamina required would be great as soon as I knew I got it. I started with more cardio with running and weight training to be physically stronger for the role. I have bad eyesight like Emily, so I practiced walking around without my contacts and trying to understand that feeling. In terms of experience, I get into the routine as I do with other scripts, especially when you film out of order. I mapped everything into a timeline from the cabin to that last scene in the barn. I put on each place, like, "At this point, I have a head wound and a scrapped knee. Here I fell from this high elevation." Every time I hopped into the scene, I knew where I was emotionally and physically because I worried about forgetting something.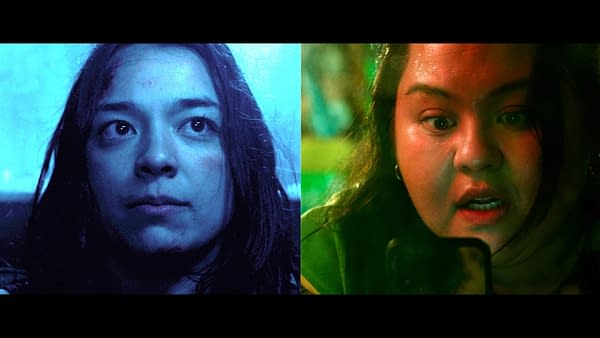 Was there any scene more demanding than others that stood out?
Everything that appeared to be the most demanding was probably not for me. All of the major stunts were done by my stunt double, but I got a few in. A lot of the climbing and the peak emotional scenes and climax of the film were easy in a way to slip into because I knew clearly what it was. The hardest section was that first chunk after I got out of the cabin, then I was navigating the woods for the first time into the first phone call. We shot it early on, and I was still getting used to acting in the woods. What does it mean not to be able to see? What does it mean to act with a phone but have no eyesight? That first chapter is probably the hardest, and I got a lot more used to it after a while. The movie also helps you out because it picks up on the scenes and pace, and then you settle in with Emily and Sam. Everything became easier for me, but before that, it was a little hard to find my footing.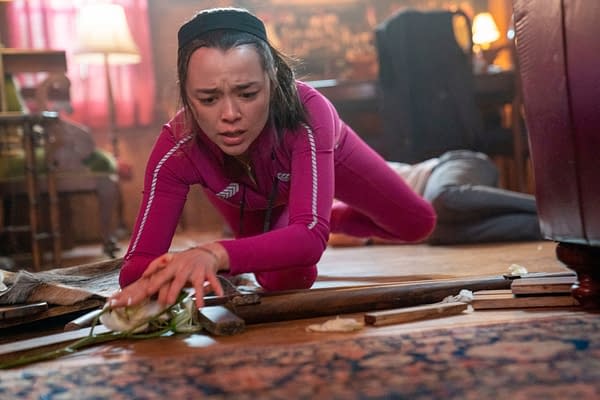 When you're filming scenes guided by your phone, was it Yoko or Jolene feeding you Sam's lines?
A lot of people say, "Wow, it's amazing that you build this friendship without being in the same room." We were in the same area when we were in the wilderness. Jolene came out early and became my scene partner in all of the wood sections. She flew in early, and I got to know her as a person in real time. That was instrumental and vital. I don't think it would have been the same movie without that. I'm so grateful we got that time. In turn, when we were at the gas station, I was in that little booth with her, hiding and giving her Emily's side.
How do you define the set Yoko ran?
There needed to be a lot of energy. A lot of this movie emotionally, I had to be anywhere between seven and ten. There are a lot of moving pieces. These movies get shot fast and furious. You need somebody at the helm of that who will be the centerpiece and hold things together. That was how Yoko was, and I barely knew if she was stressed out. Somehow, she made all of these decisions. She made a lot of brave and bold cinematic choices visually, and she utilized split screens. She knew what she wanted and came prepared. She was calm and a grounding force with everything bouncing around her, including her two actors. She understood her job, and this was amazing. She should always be collected, calm, and prepared.
How do you compare indie projects like 'Unseen' to your more mainstream? Do they feel like they give you more creative autonomy?
There's nothing like playing the lead of a film when you have a good relationship with the director. It's so creative and fun. You're creating the pattern and tone right there at the moment. I felt free and confident within the sort of guidelines that Yoko and I had discussed within the story, but there's nothing like it. It's incredible; it's like that job stays with me and gives me something I can remember for a long time. Until that next opportunity, there's nothing like that. It's a fantastic opportunity to create something from the ground up with the same team for like a month or two. It's awesome.
Written by Salvatore Cardoni and Brian Rawline, Unseen also stars Missi Pyle and Michael Patrick Lane. The film is available on digital and on-demand and streams on MGM+ in May 2023.