Untether Yourself and Unleash Your Doppelganger With the 'Us' Photo Generator
Jordan Peele's Us releases later this month, and the marketing and press are really starting to reach a fever pitch. Today the studio launched a new website WatchYourself.com where you can create your own doppelganger and untether yourself to post all over social media and freak out your friends and family!
I gotta say, this movie looks completely terrifying. I haven't been scared and nervous to see a horror film in theaters for an extremely long time, but this one…man. I can't wait, but it is starting to actually freak me out a bit. Check out the casts portraits down below.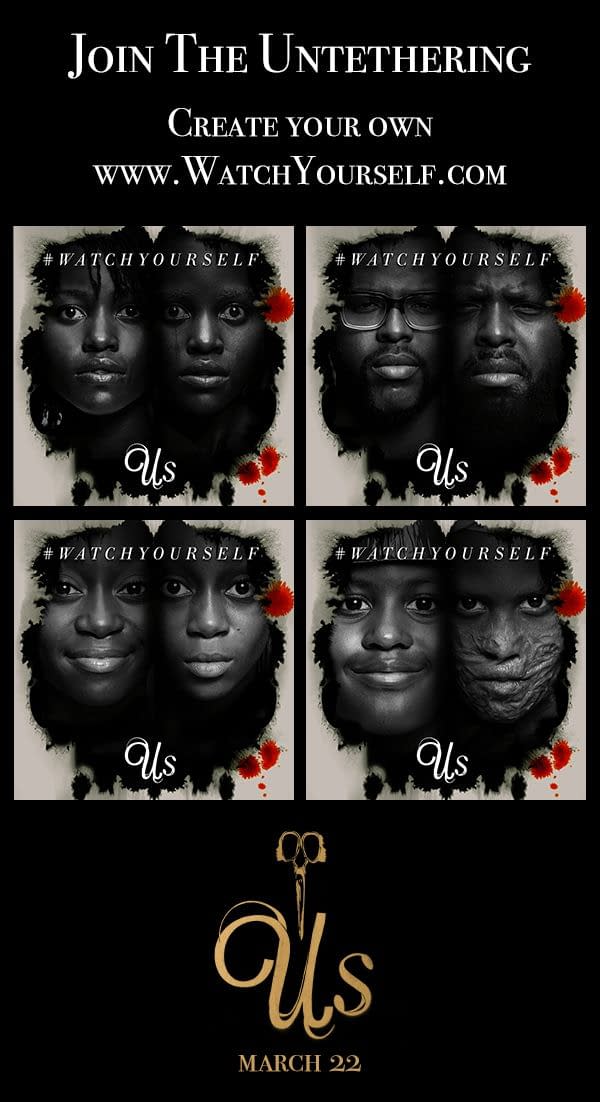 A mother (Academy Award winner Lupita Nyong'o from Black Panther, Star Wars: The Last Jedi and 12 Years a Slave) and a father (Winston Duke from Black Panther) take their kids to their beach house expecting to unplug and unwind with friends (including Emmy winner Elizabeth Moss from TV series The Handmaid's Tale). But as night descends, their serenity turns to tension and chaos when some shocking visitors arrive uninvited.
Us, directed by Jordan Peele, and starring Lupita Nyong'o, Winston Duke, Elizabeth Moss, Tim Heidecker, Yahya Abdul-Mateen II, Anna Diop, Shahadi Wright Joseph, Evan Alex, Madison Curry, Cali Sheldon, and Noelle Sheldon opens on March 22, 2019.