Valley Girl is the latest release to come from Shout Factory's Select series, and they sent us over a copy to take a look at. Let's dive in.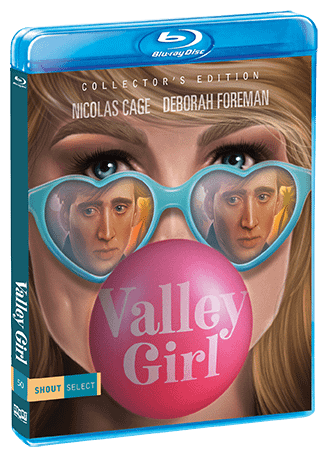 The Film: 🍿🍿🍿
One of the best teenage romance films of the 1980's, Valley Girl is one of those films that you forget about sometimes. When you are constantly compared to films like Fast Times at Ridgemont High, Say Anything, Breakfast Club, and many others, you tend to forget how well-done the relationship between Julie (Deborah Foreman) and Randy (Nicholas Cage)is, and what it has to say about the multitude of pressures teenage girls face. It feels timeless to watch even now, and I look forward to being able to revisit it over and over agin now.
Picture Quality: 🍿🍿🍿🍿
This film has never looked better. They kept the grain from the film, and the new 4k transfer highlights every inch of the San Fernando Valley in all the best ways. There will never be a better looking release of this film again, so let's go ahead and call this the definitive version.
Sound Quality: 🍿🍿🍿
There is nothing all that wrong with the track here, it is just kind of there. I wish they had done a better job pulling the dialogue forward so it was a little more present and less quiet, but its not like you have to hold the speaker up to your ear to hear it.
Special Features: 🍿🍿🍿🍿🍿
Stellar all the way through. This is a great mix of new and old interviews and featurettes that cover every nook and cranny of this film. From interviews with the cast and crew, to commentary with director Martha Coolidge, and including looks at the music and locations, there is nothing they don't cover.
This is one of the best Shout Factory releases all year. Valley Girl is one of the gems of the 80's that hopefully this release gets it its proper due as one of the more important teen films not just of that era, but any era.
Enjoyed this article? Share it!