Watch: Alicia Vikander as Lara Croft in Brand-New Tomb Raider Trailer
There are few video game characters as well known and iconic as the Tomb Raider, Lady Lara Croft. First brought to the big screen in live action form by Angelina Jolie back in 2001, the adventurous archaeologist returns to film in a reboot picture starring Oscar-winning actress Alicia Vikander.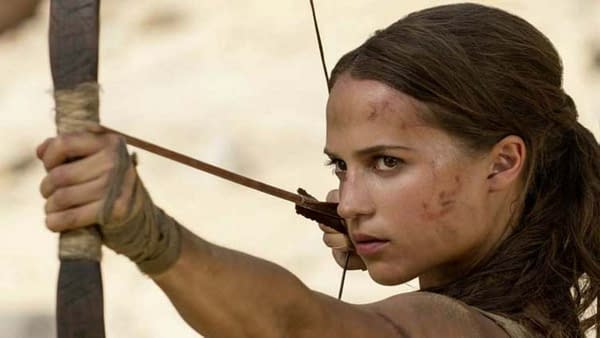 The film is (obviously) modeled after the recent game titles, a younger Lara with a bow and ponytail rather than her signature braid. Although we DO get to see her with a braid and dual pistols during the first trailer.
The second full-length trailer just dropped this morning, and shows our leading lady a more vulnerable state. Check out the trailer:
Her legend begins. Watch the new trailer for #TombRaider. pic.twitter.com/A2U47zmcCF

— Tomb Raider (@TombRaiderMovie) January 18, 2018
As you can see from the Paramount film, Lara is most definitely a survivor.
Roar Uthaug is directing, the screenplay is by Geneva Robertson-Dworet (who is also writing Captain Marvel for Disney/Marvel and the Gotham City Sirens flick for WB), and Alastair Siddons.
Dominic West is playing Lord Richard Croft (Lara's father), Kristin Scott Thomas is playing Ana Miller, Hannah John-Kamen is playing Sophie, Walton Goggins is playing Mathias Vogel, and Daniel Wu is playing Lu Ren.
The soundtrack is being helmed by Tom Holkenborg, who goes by JunkieXL, and is the creative force behind the score for Mad Max: Fury Road and the much-maligned but still great King Arthur: Legend of the Sword.
Tomb Raider is due to hit theaters on March 16th.