[rwp-review-recap id="0"]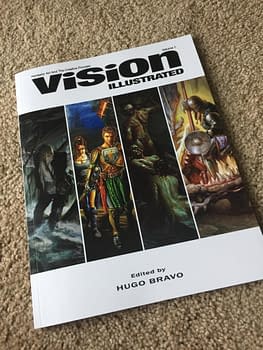 There are no shortages of books and websites displaying fantastical artwork. But Vision Illustrated, edited by Hugo Bravo, stands out from the crowd by providing not only art, but also a glimpse into the creative process.
Alongside full-page illustrations of the final product, Vision also displays thumbnail sketches, color and black-and-white studies, images of art in progress in studios and a variety of other in-progress pieces.
Unlike many other books, it also provides website and contact information for the artists, allowing the reader to see more and learn more easily about an artist that strikes his or her particular fancy. I would highly recommend this book for those wanting to see a bit more of how things are made, in addition to those who enjoy good art. We all can't camp out at a studio; but getting a good book is much more accessible. I hope there are many more volumes to come.
Many thanks to Hugo Bravo for providing Bleeding Cool with a copy of Vision Illustrated for review.
[rwp-review-ratings id="0"]
[rwp-review-form id="0"]
Enjoyed this article? Share it!