'Voltron: Legendary Defender' Panel Premieres New Episode
Alex Roberts writes:
Those who arrived for the SDCC panel for Voltron: Legendary Defender were treated to the premiere of Season 3, Episode 1: Changing of the Guard. Excitement was high with big reveals, followed up by a panel moderated by Nerdist's Kyle Anderson and featuring EP's Joaquim Dos Santos and Lauren Montgomery, as well as voice actors Bex Taylor-Klaus (Pidge) and Tyler Labine (Hunk).
The episode opens to a pitched battle, but in the aftermath of saving the locals, Lance and Hunk are caught off-guard by their insistence on seeing a fully formed Voltron. As they team reconvenes and meets with the fractured rebel leaders, they are met again by demands for Voltron. This forces the team to accept that they need a replacement for Shiro, a very begrudging realization as they struggle to move on past the loss of their leader. Meanwhile, Galra commander Throk plans an insurrection to take over the empire. He is gathering support at a gladiator match, when suddenly the victor reveals himself to be Lotor and challenges Throk to single combat. Throk is soundly defeated, but Lotor spares him and entices the crowd with a speech about how the time has come for the Galra Empire to inspire loyalty rather than fear. This is revealed to be a façade, as Lotor reveals to his team that Throk is to be exiled and the speech was just to rouse the crowd.
This season promises to change the pace of the series so far, with the Voltron team down a leader and the Galra Empire seeing the rise of a new leader with a more dynamic vision than his predecessor.
The panel discussed the loss of Shiro and how the team will cope, stating that the team will need to find a new balance. Bex Taylor-Klaus spoke about Pitch and her enthusiasm to follow Pitch's search for her family, stating that the excitement and loss as leads pan out or go cold is what draws her to Pitch.
In the Season 3 premiere, Hunk showed a newfound prowess in fighting and maneuvering. Tyler Labine joked that, "He's found his legs — he is a leg!". Among the numerous Hunk quips, Labine also teased that Hunk wants to convert their ships into food trucks in Shiro's absence. In a season that will be much darker than before, Hunk's levity and wackiness will be used to keep the show light and cheerful against the darkness of Lotor's rise.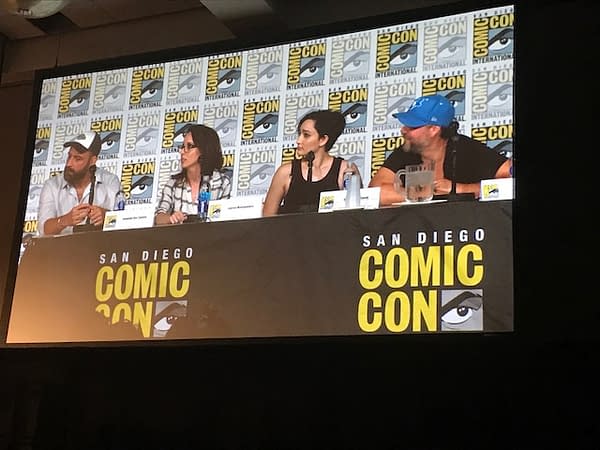 One of the most interesting parts of the panel that was met with resounding applause was that Lotor's dedicated team of villains will feature a lot more female influence. Lauren Montgomery discussed how Lotor is a new kind of villain — one that you can understand and have emotions for, rather than the traditional "pure evil" archetype. Additionally, he is throwing off the traditionalism of the Galra Empire and has recruited half-breeds into his leadership team, recognizing that he is a new leader who prides himself on the best and brightest rather than the traditional staunch Galra-bloodlines.
Joaquim Dos Santos stated, "Zarkon was for all intents and purposes an evil dude…Lotor has a completely different approach."
After all was said and done, we were treated to another premiere — this time, the Season 3 teaser trailer that will not be seen elsewhere. Additionally, they announced an exclusive poster for the room that will link up to the poster given away at New York Comic Con.
Season 3 of Voltron: Legendary Defender will premier August 4th and feature seven episodes, with another drop of episodes already slated for October.